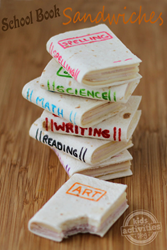 The kids will love the school book sandwiches. Be prepared to make a bunch.
Dallas, Texas (PRWEB) May 26, 2014
End the school year with a cool snack. Cute school book sandwiches and fun tube play ideas have been published on Kids Activities Blog. These sandwiches are great for school or any other book themed occasion.
The little books are so easy to make and can be personalized for any occasion. Ingredients needed to make the books are soft flour tortillas, white cheese slices, slices of deli meat, mayonnaise, and food coloring markers.
Cut the tortillas, deli meat, and cheese according to the dimensions mentioned in Kids Activities Blog. Since there will be a lot of leftover tortilla, turn these slivers into chips by baking them in the oven.
Follow the instructions to assemble the books. Since the tortillas tend to dry out prepare the sandwiches just a few hours before eating or wrap them tightly in plastic wrap. Be ready to make more sandwiches. The kids will ask for seconds.
Tube play time is a great way for kids to learn while being creative. The tubes will provide hours of fun playtime.
Simply purchase a variety of PVC pipes and joints together with a set of suction cups. The 2 1/4 inch wide pieces are the easiest to drill through, the easiest to pour through, and are still economical.
Drill holes into the pipe connectors. Make sure to match the drill bit to the suction cup "fitter".
Make the hole slightly smaller than the connectors on the suction cups. Use a kitchen knife to help stuff the cups onto the PVC pipe fittings.
Once the suction cups are firmly inside the PVC tubes, press them onto the window. Provide a bucket of corn and a shovel and let the kids have a blast pouring corn down the drain.
For detailed instructions and to get additional fun ideas, check out Kids Activities Blog this week. Come get inspired to let the kids have a blast learning.
About Kids Activities Blog
Kids Activities Blog is a website created by two moms (who collectively have 9 children), Holly Homer and Rachel Miller. Their new book published by Page Street, 101 Kids Activities That Are the Bestest, Funnest Ever! will be released June 10. It is currently pre-selling on Amazon and Barnes and Noble. Kids Activities Blog is an interactive website that publishes fun things to do with kids twice a day. It is an amazing resource for moms, dads, grandparents, caregivers and teachers to find kid-friendly activities that create memories and sneak learning into the fun.