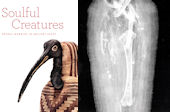 The conservation laboratory in the Brooklyn museum owns and uses a Vidisco Rayzor X Pro portable DR system, which is featured in the "Soulful Creatures" catalog.
Or-Yehuda; Israel, Brooklyn NY; USA (PRWEB) May 29, 2014
The catalogue contains essays written by curators and preservers Edward Bleiberg, Yekaterina Barbash and Lisa Bruno and a forward by the museum's director, Arnold L. Lehman. The catalogue explores the phenomena of animal mummifying (millions were mummified) and the utilization of modern research techniques in the effort to preserve as well as research and learn about the rare artifacts. The catalogue is corresponding to an exhibit by the same name that is now open to the public at the Brooklyn museum. This exhibition is part of an ongoing program at the Brooklyn Museum to share the less familiar or even unknown treasures of the museum's Egyptian collection with a wider audience. The exhibit and catalogue, both published in 2013, are the results of a project that started with the discovery of 30 forgotten animal mummy boxes in the vaults of the museum in 2009.
The catalogue features the various technologies and scientific methodologies used when researching the ancient Egyptian animal mummies. The multi-disciplinary effort of scientists and researchers is presented in detail in the catalogue, as well as a few interesting finds. Among the modern technologies used is also digital radiography. The conservation laboratory in the Brooklyn museum, led by Ken Mozer, owns and uses a Vidisco Rayzor X Pro portable DR system. The digital X-ray images in the catalogue were taken with this system.
Vidisco Ltd. published a short review, quoting the catalogue's contents on its website. "A publication such as this one supports the fact that Vidisco has a quality product, which is used in various NDT applications around the world. Such an endorsement makes us very happy. Vidisco takes special pride when its systems are involved in such special projects and in the conservation of world culture," says Ofra Kleinberger-Riedrich, Vidisco's Marcom Manager.
Vidisco Ltd is a manufacturer that specializes in portable X-ray systems, which are marketed in 75 countries. In the NDT field, Vidisco's systems are also used for many purposes such as pipe inspections in the oil and gas industry. The equipment is also used in the shipyard, power and aerospace industries for weld inspections. Furthermore, today, digital X-ray is also used for examinations of artwork and archeological artifacts to determine authenticity and defects. Vidisco is also active in the security and veterinary fields.
To the article on the Vidisco website:
http://www.vidisco.com/ndt_solutions/ndt_info_center/ndt_articles/soulful_creatures.
For more information about this exhibit go to the Brooklyn Museum website at:
http://www.brooklynmuseum.org/exhibitions/animal_mummies/touring.php.