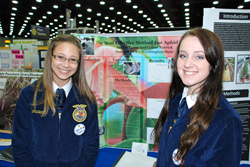 Washington, D.C. (PRWEB) May 27, 2014
Two members of the National FFA Organization who solved a plant infestation problem in their high school greenhouse are being honored today at a White House event for students who excel in science.
Celine Patrick, 15, of Lake Tapps, Wash. and Ashlee Tarro, 15, of Auburn, Wash. are members of the Sumner High School FFA chapter in Sumner, Wash. Both were invited to the 2014 White House Science Fair that celebrates the accomplishments of student winners of a broad range of science, technology, engineering and math (STEM) competitions throughout the U.S.
This year's event includes a specific focus on girls and women who have excelled in STEM and inspired the next generation with their work.
Patrick and Tarro won first place in their category and division at the 2013 National FFA Agriscience Fair, an annual competition during the National FFA Convention & Expo that features the research and results of FFA members who plan on pursuing careers in the science and technology of agriculture. Their accomplishment earned them the special White House invite.
"In our school's greenhouse, we were having a serious infestation of aphids – or plant lice," Patrick said. "We didn't want to have to resort to the use of harsh pesticides to try and eliminate the infestation." The duo's research was paramount in creating healthy and safe plants for Sumner FFA members to take home to their mothers as Mother's Day gifts. "We explored alternative methods for their control," Tarro said. "All three of the methods that we tested proved safe, though some were more labor intensive than others."
Both students this school year took an elective science classes; Patrick studied biotechnology while Tarro studied honors chemistry.
In the White House East Room, Patrick and Tarro will witness remarks by President Obama and have opportunities to interact with other guests, including their peers, professional scientists, senior government leaders and private sector representatives.
"We are happy to have Celine and Ashley as our honored guests," said Dr. Danielle Carnival, senior policy advisor at the White House Office of Science and Technology Policy. "The previous three science fairs have been favorite events of President Obama as he is always eager to learn more about what the most promising and impressive young scientists, engineers and inventors have been up to across the country."
The event will be webcast live at http:/http://www.whitehouse.gov/live. Highlights of today's White House Science Fair can be followed on Twitter: #WHScienceFair.
The National FFA Organization provides leadership, personal growth and career success training through agricultural education to 579,678 student members in grades seven through 12 who belong to one of 7,570 local FFA chapters throughout the U.S., Puerto Rico and the Virgin Islands.