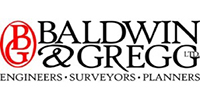 Richmond, VA (PRWEB) May 27, 2014
Timmons Group announced their recent acquisition of Baldwin & Gregg this morning, strengthening Timmons Group's position as one of the preeminent site design firms in the Hampton Roads market.
"The addition of Baldwin & Gregg to the Timmons Group team represents our commitment to the Hampton Roads market and bolsters the services we are providing from our local office." Brian Bortell, PE, President & CEO
Baldwin & Gregg is a survey firm with a 106 year tradition of serving the Hampton Roads area. Included in the acquisition is the wholly-owned subsidiary Eastern Shore Surveyors. With this acquisition, Baldwin & Gregg's existing clients will now have access to a greater range of professional services including civil engineering, environmental engineering, geotechnical engineering, GIS/geospatial technology, and landscape architecture.
Timmons Group established an office in Hampton Roads in 2006 and currently provides civil engineering and technology solutions throughout the region. The addition of Baldwin & Gregg will add a full complement of land surveying services to the local office, adding to the depth of expertise already available.
"Baldwin & Gregg has gained a loyal client base, attracting them with dependable service and by constantly striving for excellence. Timmons Group clients will know and appreciate these values as they are complementary to our own mission of providing unrivaled customer service and innovative solutions." Mark Richardson, PE, Principal in Charge, Hampton Roads
The survey team will continue to be led by Eric Patterson, the previous Vice President of Baldwin & Gregg. With 20 years of experience, Eric continues his service in the Hampton Roads area with a focus on providing outstanding customer service with unparalleled local knowledge. This acquisition will allow Timmons Group and Baldwin & Gregg to provide a greater depth of services to both their existing and future clients.
About Timmons Group
Timmons Group is a multi-disciplined engineering and technology firm recognized for nearly twenty years as one of Engineering News Record's (ENR) Top 500 Design Firms in the country. The firm provides economic development, civil engineering, environmental, GIS/geospatial technology, landscape architecture and surveying services to a diverse client base. Headquartered in Richmond, Virginia, Timmons Group has regional offices throughout Virginia and North Carolina. For more information, visit http://www.timmons.com.