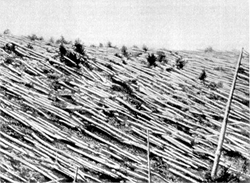 Organized interest on Einstein theories constitute a threat to the security of America because they dismiss the existence of antimatter asteroids without scientific process. Pamela Fleming.
New York, N.Y. (PRWEB) May 29, 2014
Prof. R. M. Santilli, President of The Institute for Basic Research, Florida, and author of the only available Newtonian representation of neutral antimatter asteroids, has been interviewed by a group of French scientists on the danger for Earth to be hit again by antimatter asteroids as it was the case for the 1908 Tunguska explosion in Siberia which was the equivalent of one thousand Hiroshima atomic bombs (http://www.i-b-r.org/Antimatter-interview.htm).
"Over a hundred years later," correctly states Jennifer Rosenberg in a post at hystory.com, "the Tunguska Event remains a mystery. However, if the blast was caused by a comet or meteor entering the Earth's atmosphere, it poses the serious possibility that in the future a similar meteor could once again enter Earth's atmosphere, but this time, land on a populated area. The result would be catastrophic. Researchers continue to study the area to find answers to their many questions" (http://history1900s.about.com/od/1900s/qt/Tunguska.htm).
"The sole quantitative interpretation of the enormous energy released in the 1908 Tunguska explosion," states Prof. R. M. Santilli, "is that it was due to an antimatter asteroid annihilating at contact with the upper layer of our atmosphere. The flattening of trees without scorching over tone hundred thousand acres, and the absence of a crater or any solid residue in the ground, can be explained as being due to an ice comet. However, the entire Earth atmosphere was so excited that days later people could read the newspaper at midnight in Sidney, Australia, without any need of artificial light. This large excitation of the entire Earth's atmosphere for days can solely be explained on serious scientific grounds as being due to matter-antimatter annihilation. In the Hiroshima atomic bomb, only part of the mass of the Plutonium is converted to energy, while in matter-antimatter annihilation the entire antimatter mass plus the corresponding matter mass
are converted to energy, thus explaining the release in the 1908 Tunguska explosion of energy equivalent to one thousand Hiroshima bombs. In the event America is hit by an antimatter asteroid even of the size of a small football, all our civilian, industrial and military communications will be disrupted for days because matter-antimatter annihilate into high energy photons that excite Earth's atmosphere, thus preventing any communication" (http://www.santilli-foundation.org/docs/Antimatter-2013.pdf).
"Einstein's special and general relativities have no means whatsoever for the representation of antimatter because they were conceived decades prior to the discovery of antimatter in particle laboratories," states Pamela Fleming, Executive Vice President of the Institute for Basic Research. "For evident political alignment with Einstein's theories, academia has assumed for about one century that antimatter does not exist at the level of galaxies, thus implying that antimatter asteroids do not exist since they can only be generated by antimatter supernova. It is my opinion that this political posture by Einstein's followers in our academia is endangering the safety of the United States of America, as well as of the rest of the world. In fact, said political posture is responsible for the lack of serious studies in the Newtonian representation of neutral antimatter asteroids for about one century, with the exception of the representation achieved by Prof. R. M. Santilli and his group. Since there is no realistic hopes of corrections in our academia in the near future, it is hoped that the U. S. Military initiates research in the advance detection of antimatter asteroids by addressing at least some of the many open problems. For instance, as stressed by Prof. Santilli, we do not know whether light from our matter-Sun, or from our matter-lasers, is refracted or absorbed by a cold antimatter asteroid. Therefore, at the moment we do not know whether we can view antimatter asteroids with our telescopes, thus creating a real problem of national security fellow Americans should be aware of" (http://www.santilli-foundation.org/Detect-Ant-Galaxies.php?vsmaid=19).
"Prof. Santilli has received numerous honors," states Mrs. Fleming, "including: the Gold Medal from the University of Orleans, France, in 1981; the nomination by the Estonia Academy of Sciences among the most illustrious applied mathematicians of all times; the prestigious Mediterranean Prize in 2007 that has also been granted to Hilary Clinton, Price Albert of Monaco , France President Nicolas Sarkozy, Juan Carlos King of Spain, and other famous people; the 2011 Nepal Scientific Prize; the Gran Cross of the St. Agata order in 2011, which is the highest honor granted by the Republic of San Marino; the Honorary Membership to the ICNAAM in 2011; the "ringing of the bell" at NASDAQ in 2012; hundreds of nominations for the Nobel Prize in Physics and Chemistry; an other honors (http://www.santilli-foundation.org/santilli-nobel-nominations.html)
Pamela Fleming
The Institute for Basic Research