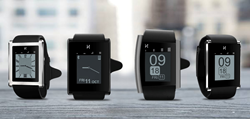 "HOT Watch is a great example of the kind of innovative wearable devices that are even more personal and engaging when paired with a Windows Phone."
Plano, Texas (PRWEB) May 28, 2014
PH Technical Labs announced today that a Windows Phone app for the popular and innovative HOT Watch is under development, in collaboration with Microsoft Corp. The two companies are working to create an application that takes full advantage of the uniquely personal characteristics of the Windows Phone operating system.
HOT Watch, blasted through its Kickstarter funding goal during the summer of 2013, and has since been referred to as the "Holy Grail of wearable devices." HOT Watch is the only smart-watch that allows its wearer to make a completely private phone call simply using their palm with no headset or phone handling required, using its patented technology.
"We set out to build the most complete smart-watch on the market," said Shariq Hamid, CEO of PH Technical Labs. "This collaboration with Microsoft will enable us to take HOT Watch to the next level, making the watch available to even more people eager to take full advantage of all of its easy-to-use, innovative features."
Full Windows Phone support will be implemented by June 30, 2014.
"Windows Phone is supported by a rich app ecosystem that offers a variety of quality apps and games that take advantage of the platform's unique features and design, such as Live Tiles," said Todd Brix, general manager, Windows Apps and Store, Microsoft. "HOT Watch is a great example of the kind of innovative wearable devices that are even more personal and engaging when paired with a Windows Phone."
HOT Watch is currently available for pre-order on its website, http://www.hotsmartwatch.com. Delivery to all Kickstarter backers plus existing orders will start shipping in June with iOS and Android support. Windows phone support will be added on June 30.
For more information about HOT Watch, visit http://www.hotsmartwatch.com, or follow @HOTSmartWatch on twitter.