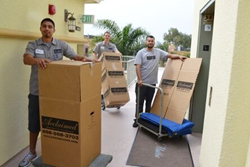 Los Angeles, California (PRWEB) May 28, 2014
The Commercial Movers have noticed a stark contrast between the number of businesses and offices moving into the region versus those that are moving away from the region. The number of businesses moving to locations within city jurisdiction is up nearly 7% over the same time frame last year, while the number of outgoing businesses is down 12%. The Commercial Movers in Los Angeles have therefore decided to release a detailed report on what to expect if these trends continue.
Incoming businesses make up nearly 63% of relocations, but real estate value is also on the rise as more people move into the city. This bodes well for the short-term economic future of the city, and the summer months are expected to see another rise in home and office purchases and rental. Typically, the number of homes purchased and businesses opened rises in the summer and autumn months before falling in the winter.
A company spokesperson commented on the implications of the report. "An increase in the number of businesses opening their doors is always a great boon to the moving industry, and so we couldn't be happier. We're also using these increasing numbers as an opportunity to spread our recent volunteer and investment efforts. The more businesses we can find that are willing to spread environmentally friendly habits, the better off we'll all be. Our economy is looking quite strong at the moment."
The report indicates that of all clients taken on by Commercial Movers in Los Angeles, 23% have been retail office locations, 12% restaurant space, 16% non-profit offices, and 21% executive offices. The remaining clients did not disclose information on the type of business, as was an option on exit interview surveys.
The Commercial Movers are currently preparing for the coming months by expanding many of their business moving services while adding thousands of employees to their workforce. They are currently sharing specific details and relevant data with business partners in the area in an effort to ensure no one is overloaded.
When the full report is released, it will be posted to the company's website: http://thecommercialmovers.com/. The Commercial Movers have assured economic researchers that the report will be a helpful tool in understanding the industry and its current economic impact, but hopes that private citizens will take interest in the city's increasing economic momentum.
Press Contact:
Tom Pinkus
The Commercial Movers
(424) 238-2070