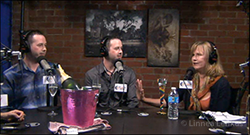 When you are an artist you have all of this energy and I try and to tap into that and photograph what I see
Los Angeles, CA (PRWEB) May 29, 2014
Los Angeles fine art photographer, Linnea Lenkus, has been no stranger to the hit TradioV series the "Artful Undress" a radio in TV show dedicated to discussing nudity in the arts and societal values. Lenkus' most recent appearance in May marked the third time the photographer famously known for her celebrity maternity portrait of Brooke Burke has appeared on the show. Hosts Kira, a Laguna Beach sculpture artist and Polina Hyrn, promoter of the arts, have highlighted everything from her children and family photography to her fine art boudoir photography and most recently discussing her Los Angeles art gallery.
The veteran photographer founded Linus Galleries in October 2011 with the mission of being a different type of art gallery than the world was used to. "The friendly gallery," as Lenkus often refers to it, has the mission to promote both experienced and emerging artists alike with one common factor when it comes to the artwork; exceptional quality. The contemporary art gallery has gained a lot of attention from artists and collectors as it features a wide variety of online art shows, live exhibitions and a strong web presence that is home to a wealth of information for artists.
The art gallery curator explained her goal was to not only expose incredible art to the world but to also help artists market and promote their art. One way Lenkus does this is through her Artist Portrait Series which is a reoccurring blog feature that highlights select artists, their work and their portraits taken by Lenkus herself. The fine art photographer said that it is exciting to photograph artists and to connect with them on a different level. "When you are an artist you have all of this energy and I try and to tap into that and photograph what I see," Lenkus said. The portraits are the photographer's gift to the artists to use however they please. "I want the artist to use my images to be able to promote themselves. You have to have a polished look to what you are doing," Lenkus said.
The TradioV hosts quickly pointed out that Lenkus is a "pioneer in the art world" and that the LA photographer is creating a different kind of art community where everybody will fit. When asked for advice for both experienced and emerging artist Lenkus shared "If you are still a new artist practice your technique over and over and it will get better. If you have mastered your technique then you must be able to communicate your art with the world. The artists that make it are constantly connecting. Answer your email and answer your phone." Hyrn ended the show by saying, "If Linnea Lenkus is calling you…answer!"
See the "Artful Undress" show featuring fine art photographer and Linus Galleries curator Linnea Lenkus at: http://tradiov.com/la/videos/artful-undress-with-linnea-lenkus-and-the-morgan-brothers-5-17-14/.
About Linnea Lenkus
Linnea Lenkus specializes in Maternity, Children, Family and Celebrity photography as well as Fine Art Boudoir photography. Linnea is a highly experienced, internationally published, professional photographer with worldwide commercial success. In a photography session with Linnea, clients receive the benefit of her artistic eye and her technical mastery honed over decades of photography experience. She has a staff of specially trained photography experts who oversee every step of the process to ensure clients have a thoroughly enjoyable experience and receive stunning portraits of the highest quality. Studio locations are in Pasadena and Long Beach. Linnea also provides on location and underwater photography in both the Los Angeles and Orange County areas.