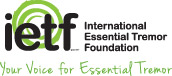 These four students exhibit impressive qualifications based on academic and extracurricular activities in their communities and will become outstanding, future leaders in helping create more awareness about essential tremor
Lenexa, Kan. (PRWEB) May 27, 2014
The International Essential Tremor Foundation (IETF) is pleased to award four students who are affected by essential tremor (ET), a common neurological disorder, with $500 scholarships for the 2014-2015 academic year: Alyssa Mendelsohn from Baltimore, Md.; Kaleigh Knapp from Concord, N.C.; Paul Schoolman from Sykesville, Md.; and Sarah Kunz from Waverly, Minn.
"These four students exhibit impressive qualifications based on academic and extracurricular activities in their communities and will become outstanding, future leaders in helping create more awareness about essential tremor," said Catherine Rice, Executive Director of the IETF.
Essential tremor is a neurological condition that affects more than 10 million Americans. ET causes rhythmic shaking of the hands, head, and voice. ET is often misdiagnosed as Parkinson's disease, although eight times more common. ET is characterized by action tremor, making everyday tasks such as eating, drinking, and writing difficult if not impossible. There is no cure for this life-altering condition.
IETF scholarships are awarded to qualified students of all ages who have been diagnosed with ET, to lessen the burden of higher education. The scholarship can be used for supplies, books or tuition at licensed, accredited institutions of higher education (including trade schools) and are paid directly to the educational institution. For more information about the IETF scholarship program, please visit http://www.essentialtremor.org/about-the-ietf/scholarships.
About The International Essential Tremor Foundation:
Headquartered in Lenexa, KS, and founded in 1988, the International Essential Tremor Foundation is the leading organization in the world dedicated to those affected by essential tremor. The mission of the IETF is to fund research that will find the cause of essential tremor and lead to better treatments and a cure, increase awareness about ET, and provide educational materials, tools and support to healthcare providers, the public, and those directly affected by ET.
The IETF has distributed more than $750,000 in research grants, to fund 30 promising studies, in the search for the cause of ET. The Foundation has hosted numerous community awareness events across the U.S. to provide those affected with the basic knowledge necessary to become their own advocate when seeking treatment. And, the IETF also provides assistance to a vast network of support groups around the world. To learn more about essential tremor and the IETF mission, visit the IETF website at http://www.essentialtremor.org.