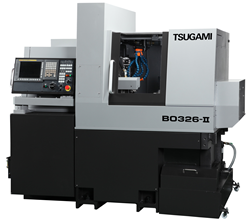 We host these informative events because machine tools and manufacturing processes are always advancing.
Cincinnati, OH (PRWEB) May 28, 2014
Technical Equipment, a leading regional machine tool distributor, will hold a small part machining technology event for manufacturers on June 12th at its Cincinnati, Ohio technical center.
In two sessions, industry-leading machine tool specialists from Sandvik Coromant will share small part machining tips and troubleshooting techniques and explain how variables like materials, tolerances, through-tool coolant and other factors influence machining processes. Between sessions, Technical Equipment machine tool specialists will host live cutting demonstrations on the Tsugami B0326-II 32mm 6-axis Gang Tool Lathe and the Murata MW120GT Twin Spindle Turning Center. Lunch will be served.
"We host these informative events because machine tools and manufacturing processes are always advancing," Technical Equipment President Lou Olson said. "Keeping manufacturers up to date directly aligns with our corporate philosophy of 'helping manufacturers make parts less expensively.' It's why we're in business and I believe it's one of the most important services we offer."
Manufacturers can register to attend the event, scheduled from 10:45 a.m. to 2:00 p.m., on the Technical Equipment website at http://www.techequip.com.
About Technical Equipment
Technical Equipment is a division of Morris Group, Inc. (http://www.morrisgroupinc.com/). The company is an exclusive distributor for Tsugami, Doosan, Makino, Hermle and Murata machine tools in Ohio, Indiana and Kentucky. In addition to new machine tools, Technical Equipment provides engineered solutions, replacement parts, service, preventive maintenance and more. Services also include financing, installation, training, service and disposition of retired machines.
About Sandvik Coromant
Sandvik Coromant (http://www.sandvik.coromant.com/) is a global leading supplier of cutting tools, tooling solutions and know-how to the metalworking industry. With extensive investments in research and development, the company creates unique innovations and sets new productivity standards together with its customers. These include the world's major automotive, aerospace and energy industries. Sandvik Coromant has 8000 employees and is represented in 130 countries. It is part of the business area Sandvik Machining Solutions within the global industrial group Sandvik.