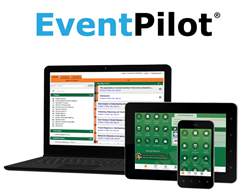 The Online Itinerary Planner makes the transition to paperless events easy
Santa Rosa, CA (PRWEB) May 29, 2014
ATIV Software today released an "Online Itinerary Planner" for its medical and scientific meeting app EventPilot to provide attendees a paperless desktop alternative for easy conference agenda building directly from within the organization's website. Attendees without smartphones download an interactive PDF or export an iCal (.ics) calendar file of their personal conference schedule. iOS and Android users load their prepared agenda directly into the award winning EventPilot meeting app. Both, the conference app and the itinerary planner, allow for convenient CME or credit tracking. Learn more at http://ativ.me/planner.
"Meeting planners can now drop printing any of the expensive proceeding books without worrying about those attendees that haven't made the switch to a smart mobile device yet," said Silke Fleischer, Co-Founder and CEO of ATIV Software. "Our online itinerary planner bridges the gap and makes the transition to paperless events easy."
Conference organizers integrate the customized itinerary planner directly into the organization's website where attendees can take advantage of the larger screen real estate to browse, filter, search, and plan their schedule from thousands of sessions and scientific abstracts. Attendees that do not have smart devices can export their personal schedule to their Microsoft Outlook calendar or download an interactive PDF containing the agenda details. Attendees with smart devices simply install the mobile conference app and all scheduled sessions and bookmarked items are seamlessly downloaded and synchronized with the app. The visual design of the online itinerary planner matches the views within the app for an easy transition from the conference website to the mobile conference app.
Features of the EventPilot Online Itinerary Planner Include:

Paperless Solution for Non-Smartphone Users
Interactive PDF file download and iCal (.ics) calendar export of the personal agenda provide a simple solution for attendees who do not use smartphones.

Logged-in attendees seamlessly switch between the online planner and the app. Schedule, bookmarks, and marked CME / credit sessions are synchronized.

Whenever new data is published to the app, the online planner automatically updates to reflect the same dataset as the app.

Customized to Each Conference
Meeting planners can adjust the colors to match their website, select navigational tabs they need and even add custom tabs with additional event information.

The module is available immediately.
About ATIV Software
ATIV Software is the leading event app provider for large medical and scientific meetings and publishes the mobile conference app EventPilot as well as EventPilot Journal app for custom medical and scientific peer reviewed publications. Available as native app for iOS and Android; free Web-app included for BlackBerry, Windows Phone; itinerary planner available for full website integration. http://www.ativsoftware.com.