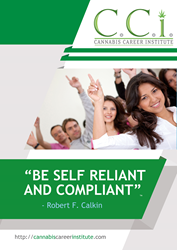 St. Petersburg, Florida students need to learn about the Cannabis Industry so they can build their own infrastructure once FL laws pass
(PRWEB) May 27, 2014
While Florida stands on the brink of Medical Marijuana legalization with some laws already coming to light, business entrepreneurs are trying to quickly learn what it will take to run a real cannabis business in today's world.
Cannabis Career Institute, providing nationally recognized cannabis business training seminars, will arrive in St. Petersburg, Florida for a full day instructional workshop that will answer many questions local entrepreneurs may have regarding this new industry. Classroom students will learn that there are a variety of rules, regulations and laws that need to be understood prior to even starting business planning. To help students get oriented, workshops include in-depth business planning information, business management details and legal discussions from local attorneys. Each workshop provides students with a broad range of quality information to help them make the right decisions in this newly forming industry, so they can have a better chance of becoming successful.
After news reporters attended a recent set of Cannabis Career Institute classes and reported on the value of the workshops offered, students from all over the state of Florida have bombarded the phone lines with requests for additional training dates. WFTV did an in-depth interview on the validity of CCI and several other news agencies covered the reactions of students plus interviewed instructors, each one providing favorable reports and expressing the very real need for more education in this industry.
The cannabis industry is expected to explode across the nation as more states legalize medical marijuana, and in some cases, recreational marijuana. Some experts have projected the industry to rake in billions of dollars annually in the first few years and states are looking to expand their budgets with valuable tax revenue earned off of future legalized medical marijuana sales. Colorado announced they expect to take in over $184 million dollars in tax revenue in the first 18 months of legalization, signifying that other states with empty coffers are going to be looking into this industry as a serious business. The job markets alone, in Colorado, have shown that there are plenty of opportunities to be had for employees in the industry. CannaJobs has reported an increase in resume submissions and Employer viewing over the last month.
While Florida still stands on the cusp of legalization, NORML members in Florida have expressed that the Marijuana Industry is coming to the state, without any real obstacles standing in the way. Popular vote of the residents suggest that 75% of residents are in full support for medical marijuana and legislators are moving forward to enact the medical marijuana legalization prior to the ballot in the fall.
Building the infrastructure before the legalization of medical marijuana is approved is one of the things Cannabis Career Institute is teaching attending students how to do. The classes focus on how to get the right information it will require in order to get that infrastructure up and running, ready to operate at the expected passing of legislation.
Opened in 2009, Cannabis Career Institute is the National Leader in Business Training for the Cannabis Industry and has continued to provide effective and valuable information to students wanting to learn how to open a medical marijuana dispensary, operate an edibles company, manage a grow operation or start a marijuana delivery service.
A wide variety of guest speakers, local Florida attorneys, grow masters, edibles operation speakers and more, provide detailed information to help students understand the broad picture of the entire industry.
A large number of topics are discussed and students are invited to learn more by setting up consultations with the instructors of the class and allows students to network together, creating lasting connections in this newly forming professional industry.
Media and the Press are invited to communicate with Cannabis Career Institute and are asked to set up an interview time with the attending Instructors by calling (800) 753-2240.