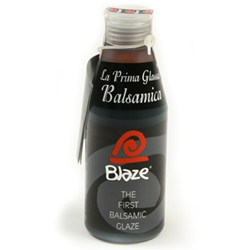 Balsamic glaze adds complex flavors to everything from savory and rich meat dishes to sweet and tangy desserts.
(PRWEB) May 28, 2014
Italian food specialist, Gourmet Italian, is proud to present a wide selection of imported balsamic glazes that will perfect Italian recipes prepared for upcoming family and community-based Republic Day celebrations held throughout the United States. The product line includes both flavored and original balsamic glazes, and all balsamic glaze products were created in the province of Modena, Italy—renown for quality balsamic vinegar and wine vinegar reductions.
Italy became a republic on June 2, 1946, after a passed referendum, and became known officially as Repubblica italiana, or The Italian Republic. The day is known as Republic Day and is celebrated on June 2nd of each year. Unsurprisingly, the event is often noted by enjoying traditional Italian dishes, with many family recipes featuring balsamic vinegar and balsamic glaze products.
Balsamic glaze is produced from aged grape juice. Vinegar was first created in the Middle Ages when it was discovered that undisturbed grape juice ferments to produce wine and, eventually, vinegar as it sours.
Balsamic glaze, also known as balsamic syrup or balsamic reduction, is a result of applying heat to balsamic vinegar until it thickens and reduces. The result is a product that is slightly thicker with an almost syrupy consistency. The more aged the product the thicker the consistency, and as it thickens, the flavors grow increasingly concentrated and more intense. The taste is both sweet and tart and compliments a wide variety of foods.
True balsamic vinegar products are only produced in Modena, Italy, and receive special labeling due to their historical methods of production. The products are protected by a designation of origin (PDO) issued by the European Union in April 2000. Balsamic vinegar not produced in Modena cannot carry the phrase "product of Modena" on the product label.
Now balsamic glaze is an institution in fine Italian cooking, and used in a variety of dishes, ranging from savory to sweet. "When you're talking about flavored balsamic glaze, it's easy to create unique food pairings," says Gourmet Italian. "Balsamic glaze adds complex flavors to everything from savory and rich meat dishes to sweet and tangy desserts. Keeping a variety of flavored balsamic glazes in your kitchen means you can dress up a simple fruit platter in minutes flat. There is no single food product you can keep in your kitchen that makes it easier to impress."
Gourmet Italian's carries a product line of balsamic glaze created by Roland, Mussini, and Blaze, and includes flavors such as cinnamon, pomegranate, raspberry, garlic, truffle, and many more.
Balsamic glaze can be purchased on the Gourmet Italian website. Additional information on a variety of balsamic glaze products is also available.
Wholesale Food Network LLC operates out of Youngstown, Ohio, and has been doing business under the "Gourmet Italian" name since January 2009. For more information on any of their products, please visit the Gourmet Italian store website.