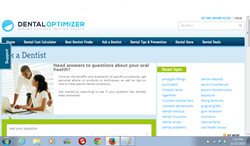 When people have the coverage they're way more likely to make the those semi-annual appointments and avoid bigger tooth problems. - Sam Dyer, Healthy Grid
Portland, OR (PRWEB) May 29, 2014
Healthy Grid has announced an expansion to their popular Dental Optimizer program. People searching for a dentist can now also use the site to find a dental insurance company.
The Dental Optimizer is a program that helps to connect dentists with people who are searching for them. Dentists and their employees are encouraged to construct custom profiles on the Dental Optimizer. These profiles are designed to promote each practice's unique services and features as well as their locations and hours.
When someone is searching for a dentist in their city or simply searching for an answer to a question about their oral health they will likely be led to the Dental Optimizer. Within the Dental Optimizer they will be able to search for the nearest dentist that fits their needs. Some of the criteria most important to patients includes location, hours, gender, and languages spoken by the staff. The Dental Optimizer also has a cost-calculator that gives people an idea of the likely cost of their needed procedures.
"We're really having great success with the Dental Optimizer," says Sam Dyer of Healthy Grid. "We're helping people find good dentists who might otherwise go without care, or seek out lesser care, and the dentists are happy to fill up their schedules and help new people."
Dyer elaborates, explaining that Dental Optimizer does more than connect dentists and patients. He notes that features like the ask-a-dentist program and the extensive library of dental articles have been really helpful to people in need. "The end result a lot of the time, of course, is that people contact a dentist and get established. That's ultimately want what we want: to help them avoid pain and expense. Prevention is the key and regular checkups lead to better habits. Pick up the floss and put down the checkbook, if you will."
Dyer and the rest of the Dental Optimizer team did manage to miss a gap in their program. What about people without dental insurance? "When we started the Dental Optimizer," he says, "we just didn't have any idea how many people don't have dental insurance. Also, even though the ACA's direct impact on dental is peripheral at best, the changes to so many health plans have affected the decisions that people make about dental insurance too. Long story short: how can we help people find dental insurance?"
To address this concern, the Dental Optimizer will now also help people find the right dental insurance for their specific needs. In the same manner that people search for the right dentists in the area they will also be able to find an insurance company that offers that the dental plan for their needs. According to Dyer, 44% of Dental Optimizer users have no dental coverage and he says they would like to reduce that figure.
"Dental insurance is an important component of complete oral health care." Dyer adds, "When people have the coverage they're way more likely to make the those semi-annual appointments and avoid bigger tooth problems. We've partnered with ODS to help us roll this out in the Northwest and we're hoping to have some other carriers on board soon."
Patients looking for dental care can join the Dental Optimizer at http://www.dentaloptimizer.com. Dentists looking to expand their base and help more people can sign up at http://www.dentaloptimizer.com/dentists/dental-web-marketing/. Insurance companies who'd like to reach more members should contact the Dental Optimizer via this article's contact information.