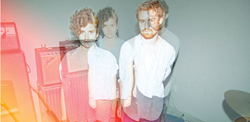 "Arts Brookfield is thrilled to present The FIGat7th Downtown Festival again! We know we've struck a chord in LA's live music scene and are delighted by the audience support," said Debra Simon, Vice President and Artistic Director of Arts Brookfield
Los Angeles, CA (PRWEB) May 29, 2014
The FIGat7th Downtown Festival returns this summer to downtown Los Angeles for its second year. Every Friday night, these free non-ticketed outdoor concerts feature performances by leading Pop, Rock, Jazz, Soul and Alternative artists at downtown LA's premier shopping and dining destination: FIGat7th. The weekly concerts kick-off on July 18 with Jonathan Wilson. Other headliners include Fool's Gold, The Belle Brigade, Las Cafeteras, Gardens & Villa and The Internet.
The FIGat7th Downtown Festival debuted last summer attracting thousands of music lovers to downtown Los Angeles. Since 2008, Arts Brookfield has been a leader in the downtown LA art scene. Music and art fans in LA look forward to presentations of world-class cultural experiences and signature outdoor music events at Brookfield's premier downtown properties. From music, theater and dance to film screenings and art exhibitions, Arts Brookfield brings public spaces to life through art.
After its critically acclaimed debut last summer, The FIGat7th Downtown Festival is one of the best places to experience live music in downtown and is conveniently located across the street from a major Metro stop. FIGat7th, Brookfield's highly successful 330,000-square-foot retail and dining destination, continues to announce and open the city's most sought-after fashion retailers and chef-driven dining options in the region. The FIGat7th Downtown Festival is one of the only concert experiences in Los Angeles where music lovers can dine, drink and shop in one location. An addition to this year's Festival is a bar and beer garden presented by City Tavern, the new FIGat7th bar and eatery with its flagship location in Culver City, along with its sister property Rush Street. City Tavern is known for serving some of California's best craft draft beers and handcrafted cocktails in downtown Los Angeles.
"We are looking forward to the return of The FIGat7th Downtown Festival this summer. The weekly outdoor concerts offer our tenants, the residential neighborhood and all Angelenos the opportunity for an unparalleled entertainment, retail and dining experience in downtown LA," said Brookfield's Bert Dezzutti, Executive Vice President, Western Region.
"Arts Brookfield is thrilled to present The FIGat7th Downtown Festival again! We know we've struck a chord in LA's live music scene and are delighted by the audience support," said Debra Simon, Vice President and Artistic Director of Arts Brookfield.
To learn more about this music festival and other Arts Brookfield programs, visit http://www.ArtsBrookfield.com.
The FIGat7th Downtown Festival 2014 Schedule
JULY 18 – JONATHAN WILSON
With 2011's critically-lauded debut, Gentle Spirit, audiences worldwide were introduced to the prodigious talents of singer, songwriter, record producer and unrivaled guitar hero Jonathan Wilson. Gentle Spirit was celebrated for its authentic exploration and modern updating of the "Laurel Canyon sound." Wilson's follow-up, Fanfare, was recorded over a 9-month period at his Fivestar Studios in Los Angeles and features contributions from Graham Nash, David Crosby, Jackson Browne, Josh Tillman (aka Father John Misty), Wilco's Patrick Sansone, Dawes' Taylor Goldsmith and Mike Campbell and Benmont Tench from Tom Petty and The Heartbreakers. The album is an ambitious, epically grandiose rock production that has conjured notions of Dennis Wilson's Pacific Ocean Blue amongst more than one music journalist.
JULY 25 – THE INTERNET
The Internet is a soul band created by producer Matt Martians and lead vocalist Syd "The Kyd" of Odd Future. The Internet recently released their second LP, a soul album entitled Feel Good, through Odd Future Records. The sultry instrumentals are complemented by heartfelt lyrics from Syd and guest vocalists such as Yuna and Mac Miller. In one year The Internet has performed more than 60 shows in North America, Europe and earlier this year at Coachella Valley Music and Arts Festival.
AUGUST 1 – LAS CAFETERAS
Las Cafeteras sprouted in 2006 as students who enjoyed Son Jarocho classes & decided to share the magic of this folk music from Southern Veracruz with the public. Las Cafeteras has opened for groups including Ozomatli, Zack de la Rocha (of Rage Against the Machine), La Santa Cecilia, Fool's Gold, Quetzal & more. Las Cafeteras combines the vibrant energy of Son Jarocho music with an edgy LA-alternative sound & political message. Their pounding Afro-Mexican rhythms, stomping zapateado dancing, and uplifting lyrics tell stories of everyday people.
AUGUST 8 – GARDENS & VILLA
Gardens & Villa are an indie rock band from Santa Barbara, California. They formed following the collapse of a noisier post-punk band and a hitch-hiking journey up the west coast. The name is pulled from the location of their house on Villa Street, and the property's lovely garden to which they tend. The music they make is very much connected to the coastal city they call home — the stony bike rides, dance parties, a scene free of judgment. The band refers to this Santa Barbara feeling as "coco vibes."
AUGUST 15 – FOOL'S GOLD
Fool's Gold is an Afro-pop band which formed in Los Angeles in 2006. The band rotates around Luke Top (real name Nativ Top) and Lewis Pesacov and also enlists friends and colleagues that include members of the bands Foreign Born and Glasser, former members of We Are Scientists, The Fall and a variety of visual artists. Their major influence is South African, Ethiopian and Eritrean music, while lead singer Luke Top, who was born and raised in Israel, sings in Hebrew.
AUGUST 22 – THE BELLE BRIGADE
Founded by siblings Barbara and Ethan Gruska, The Belle Brigade's music is artfully arranged, with enticing melodies and pop harmonies, fueled by the interplay of driving rhythms between Barbara's drums and Ethan's guitars. Both are gifted songwriters – finding inspiration in the works of Peter Gabriel, John Lennon, The Beach Boys, Sly Stone, Harry Nilsson and countless others. The Belle Brigade has appeared on "Jimmy Kimmel Live!" and "Conan" and their compelling live performances have led to tours with such artists as the Nocturnals and K.D. Lang.
About Arts Brookfield
Arts Brookfield presents exciting, world-class cultural experiences to thousands of people for free each year in both indoor and outdoor public spaces at Brookfield Office Properties' premier buildings in New York, Los Angeles, Denver, Houston, Toronto, Perth and Sydney. From concerts, theater, and dance to film screenings and art exhibitions, Arts Brookfield brings public spaces to life through art. Visit http://www.ArtsBrookfield.com for event schedules in all 7 cities.
Over the next year, Arts Brookfield celebrates its 25th Anniversary through an interactive initiative called Art Set Free. The public is invited to submit original artworks of all kinds for display at Brookfield's properties around the globe and on http://www.ArtsBrookfield25.com.
# # #
Handles: @figat7th @artsbrookfield, @songsofjw, @intanetz, @lascafeteras, @gardensandvilla, @foolsgoldla, @thebellbrigade
Hashtags: #figat7thfest