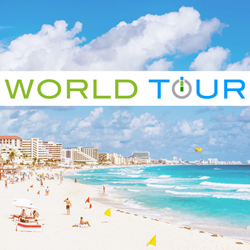 Denver, CO (PRWEB) May 28, 2014
Contemporary health supplement and lifestyle company Bamboo Nutra announced today details of the official November Cancun Launch Event, which the Company reveals will be fused with their 1st Annual Bamboo Nutra Polo Cup.
November 18th-21st will witness Bamboo Nutra electrifying the tropical paradise of Cancun, Mexico. Among the event's 4 days of fun in the sun, Bamboo Nutra Members, and those interested in a career path with the Company, will hear from and interact with the Bamboo Nutra Founders, as well as an array of Network Marketing Professionals from around the world.
"This Launch Event is all about lifestyle," said Leighton Dean Bamboo Nutra Executive VP. "Cancun will be our first major venue to be able to directly introduce and teach people our true culture and philosophies."
Dean went on to say, "Our goal (with the Cancun Event) is to create a relaxed and stress-free environment that induces a 'vacation mentality'. It gives us the opportunity to connect with people in that sublime state of freedom and open-mindedness, as opposed to the strapped-in daily grind mind-set, and aids us in deeply instilling our members with the messages and ideals that we want conveyed in the field."
Bamboo Nutra and team will take over several of Cancun's largest and most luxurious venues during the blowout Launch Event. Hard Rock Hotels, Now Resorts, E! Entertainment, and Land Rover will be among the principle sponsors of the Annual Bamboo Nutra Polo Cup; which the Company says will be hosted at the prestigious Puerto Morelos El Rey Country & Polo Club, and will feature word-class Polo players from around the world including: US, Mexico, Austria, Argentina and Australia.
In-line with the Bamboo Nutra's community outreach and social responsibility focus, the Company will donate a portion of the Annual Polo Cup's proceeds to the 'Fundación Juntos Por Los Demás' (Together For Others Foundation), which the Company says will also take on an integral role in the annual event. The Foundation is one of Mexico's largest offering therapy, recreation and support for handicapped children and young people with limited economic resources. Having achieved great results utilizing animals as therapeutic aids, specifically horses, Polo creates the perfect environment for the Foundation to develop physical and intellectual capacity among their patients.
The Cancun Event will also incorporate an exhilarating live concert presented by Hard Rock. Bamboo Nutra will treat members to an exclusive performance by a multi-cultured A-list artist such as; Shakira, Enrique Iglesias, Marc Anthony or the like, which the Company says will be announced in the coming months.
Bamboo Nutra has set maximum capacity of the event at 3,000, with 2,000 spots reserved for members and 1,000 open for friends, family and prospects interested in Network Marketing.
"Our aim is to make this a historic launch event for the Network Marketing industry," said Bamboo Nutra's VP of Member Relations Adam Gauer. "We've been able to intertwine the spirit and fundamental nature of Network Marketing with a live concert and a luxury sport like Polo, for what we think really sets the stage for Bamboo Nutra as a Company. (This event) is all about conveying our ideology, and it certainly substantiates the fact that our culture and community is truly at the epicenter of everything we do."
About Bamboo Nutra:
Bamboo Nutra is an innovative Health Supplement and Lifestyle Company, focused on promoting comprehensive body/mind/life transformation through positive and healthy lifestyle choices. The company's core philosophy is built around instilling key principles into people's lives such as knowledge, education, confidence and compassion, and bringing health and wellness to every corner of the world.
For more information, visit BambooNutra.com, or keep up to date with all the latest news, events and challenges on Facebook at http://www.facebook.com/BambooNutra or on Twitter @BambooNutra. To connect with the Bamboo Nutra evolution add the hashtag #bamboonutra along with #compassionbynature.
About Juntos Por Los Demás:
Fundación Juntos Por Los Demás (Together For Others Foundation) is a Mexican charitable foundation established by Juntos Por Un Caminar. Juntos Por Los Demás was created for the sole purpose of providing disabled economically disadvantaged youth with the help they need; help that they otherwise could not afford or have access to.
https://www.bamboonutra.com/shared-files/Foundation.pdf
https://www.bamboonutra.com/shared-files/Fundacion.pdf