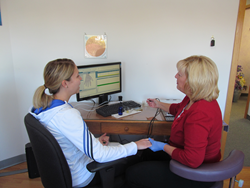 When inflammation overcomes the body, we begin to see the other symptoms besides migraines. These can be fatigue, brain fog, cold hands and feet, insomnia or sleep problems, digestive problems or IBS, decreased energy or lethargy
Orland Park, Illinois (PRWEB) May 27, 2014
Scientific research has proven that migraine headaches are actually a neurological condition that is caused by gradually increasing levels of inflammation in the body and the brain. Those who suffer from migraine headaches produce an abnormally high amount of inflammation. As a result, this inflammation causes irritation to the pain nerves in the perivascular spaces and which cause the headache or migraine.
Barbara Griffin, NMD, CNC, Gluten Free Practitioner, and owner of Vital Health, Inc., explained, "This inflammation can also affect other areas of the body, such as the nervous system, the digestive tract, and the endocrine system. When these other systems of the body begin to malfunction as a result of the inflammation, we begin to see the other symptoms. These can be fatigue, brain fog, cold hands and feet, insomnia or sleep problems, digestive problems or IBS, decreased energy or lethargy and many other symptoms."
At Vital Health Inc., Dr. Griffin utilizes a powerful tool, Electro-Dermal Screening (also known as EDS or EAV). Dr. Griffin utilizes this treatment modality as one of the core solutions in her practice. It is an effective tool in identifying inflamed areas of the body. Dr. Griffin has screened over 10,000 clients using EAV, which has helped them regain their health through the wealth of vital information it provides.
Dr. Griffin explained, "In order to become healthy, you need to start by identifying what is making you unhealthy. The EVA Screening is a fantastic tool for uncovering the root cause of a person's presenting symptoms. With the EVA Screening I test for over 300 foods, chemical and environmental sensitivities," remarked, Dr. Griffin.
"They're over 20 different causes of migraine headaches. Food allergies are a major trigger for migraines. Once these triggers are identified, they can be eliminated through nutritional protocols, diet modification, and/or lifestyle modification," concluded Dr. Griffin.
Gluten Related Neurological Symptoms
Research has shown that people with celiac disease suffer from much higher than average rate of depression and anxiety. Attention deficit hyperactivity disorder is another frequent finding for both children and adults who have celiac disease or gluten sensitivity. Studies have shown that once on a gluten-free diet, school performance and overall attention dramatically improves. (1) Migraines are commonly mentioned as a symptom for both celiac and gluten sensitivity. The EVA Screening specifically tests for sensitivity to wheat and gluten. Not only can it identify gluten intolerance, but also it can show how much stress gluten impacts on the body. There is no question that celiac disease and gluten sensitivity can lead to a wide array of neurological problems. However, in most cases, following a strict gluten-free diet can reduce and even resolve symptoms.
The Gluten Migraine Connection
Celiac disease and non-celiac gluten intolerance has been associated with migraines, especially when the celiac or gluten intolerance that's not causing major gastrointestinal symptoms. Studies have shown that a gluten free diet can help people with migraines reduce the number and severity of the attacks. (1)
Other Common Migraine Triggers:
Foods: A diet high in fat, processed foods and sugar all contribute an increased frequency of migraine headaches.
Food additives: The sweetener aspartame and the preservative monosodium glutamate, found in many foods, may trigger migraines.
Drinks: Alcohol, especially wine, and highly caffeinated beverages may trigger migraines.
Physical factors: Intense physical exertion without proper hydration and rest can cause migraines.
Changes in the environment: A change in weather or barometric pressure can prompt a migraine.
Changes in sleep patterns: Missing sleep and jet lag can cause migraines.
Stress: Increased stress levels can contribute to a migraine.
Nutritional Deficiencies Play A Role In Neurological Conditions, Including Migraines
Common nutritional deficiencies found in people who have celiac disease and gluten intolerance are Methyl B12, zinc and Vitamin D. During the EVA Screening, Dr. Griffin has the ability to check for a wide array of nutritional deficiencies. Additionally, she can determine how much and what type of supplement would best help the body return to its healthiest state.
About Vital Health, Inc.:
At Vital Health, Inc. Dr. Griffin integrates a whole body approach with the intention of facilitating wellbeing and optimal health amongst her clients. Dr. Griffin's specialties include: traditional naturopathy, nutrition, EAV Meridian Stress Assessment, Food Sensitivity Screening, Environmental Screenings, Iridology, SKASYS, Live Blood Cell Analysis as well as established integrative therapies such as Neuroemotional Therapy, Neuromodulation Technique, Cold Laser and clinician for Spectracell Laboratories, Inc. Vital Health, Inc. 9031 W. 151st Street, Suite 210, Orland Park, IL 60462, (708) 226-1131, http://www.vitalhealth.org.
Sources:
(1) http://www.celiacdisease.about.com