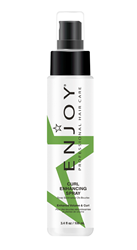 ENJOY Curl Enhancing Spray is a handy styling product, perfect for today's textured hairstyles.
Oceanside, CA (PRWEB) May 28, 2014
USP, Inc., the parent company of ENJOY Professional Hair Care is pleased to introduce ENJOY Curl Enhancing Spray to the line of professional hair care products.
ENJOY Curl Enhancing Spray is perfect for creating lift, flexible volume and soft shine when used as a blow-drying aid. This versatile hair styling product works to define and enhance natural curl when used with a diffuser and refreshes body and creates tousled waves when air-drying.
ENJOY Curl Enhancing Spray contains Panthenol, a derivative of vitamin B5, which moisturizes as well as enhances shine, elasticity and body. Hydrolyzed Soy Protein, another key ingredient, improves luster as well as texture, while increasing moisture retention and improving manageability and body.
To use ENJOY Curl Enhancing Spray, simply apply directly to the root area and blow dry as desired to create lift and volume. For defined curl enhancement, apply throughout damp hair and diffuse-dry as desired. For tousled beach waves, spray on dry hair and lightly set definition and wave direction with fingers.
Sold only in salons, the handy 3.4 oz size pump sprayer bottle of ENJOY Curl Enhancing Spray retails for $15.95 (USD).
About ENJOY
ENJOY Professional Hair Care, a division of USP, Inc., is dedicated to providing the professional salon industry with the absolute finest hair care products and most innovative professional hair color. For more information, please visit http://www.enjoyhaircare.com.