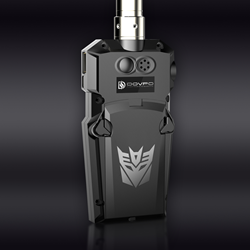 (PRWEB) May 29, 2014
Everzon is proud to present the 30W transformers mod, The Dovpo E-Mech. The E-MECH is a revolutionary Transformers Style Mod with touch screen operation, it accepts two 18650 batteries in parallel and can be powered up to 30W.
The E-MECH takes the lead to use the touch screen operation in industry. Now users don't have to press the buttons repeatedly, almost all operations can be finished from the touch screen. The E-Mech uses the professional touch screen chip, which is responsible, accurate, and easy-to-use.
The E-Mech is a perfect mod for enthusiastic users with the Maximum Power up to 30W and the Maximum Battery Capacity by inserting two 18650 batteries in parallel. The E-MECH has a very nice hand feel and many useful functions such as clock, power bank and flashlight.
Features In Brief:

Sub-Ohm Supported
Touch screen operation
Variable voltage 3.0-6.0V
Variable power 3w-30w
Clock, Calendar, Alarm clock
Emergency flashlight
Power bank: current 2.1A, voltage 5V
Two 18650 batteries parallel connection
Fore more details, please visit: http://www.elecjoy.com/power-bank/e-mech.