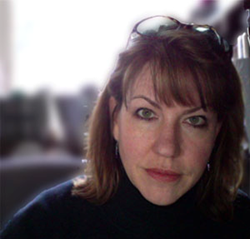 [Knitters in meetings]... remember up to 29% more than non-knitters...
McLean, VA (PRWEB) May 30, 2014
For too long, restless people (and ADD and ADHD-ers) have been criticized and prevented from doing what their bodies need to do to pay attention. They have two choices—they can fidget (annoyingly) and pay attention, or they can have their mind wander to grocery lists or logistics for after-school pick-ups. When fidgeting is directed towards more productive actions—like knitting, crochet, or doodling—minds not only attend better, but they are also creating a more positive and thus productive mental state.
So: knit in meetings and you'll be a better, more productive, and happier worker-bee.
Heather Ordover, author and podcast host, has spent the last year and a half piecing together research on distraction, fidgeting, and their link to attention going all the way back to 1885. More recent research on attention, memory, and physical movement—not to mention help alleviating PTSD symptoms—has made it possible to draw direct conclusions: automatic hand movements, like those made by knitters, crocheters, and doodlers, help practitioners stay focused and attentive—and perhaps more importantly, help them remember up to 29% more than non-knitters/crocheters/doodlers. In a world of constant conference calls, the importance of this cannot be ignored.
Ordover has begun traveling to speak on the topic at yarn stores and fiber guilds around the country as well as for businesses who are looking to improve employee engagement and attention at meetings and on calls.
Upcoming appearances:

Yarn Cloud—June 1, 2014 at 1 p.m.—13895 Hedgewood Dr, Suite 113, Woodbridge, VA 22193; Cognitive Anchoring talk and book signing.
Uniquities yarn store—June 21st, 2014, am and pm sessions—421-D Church Street, NE, Vienna, VA 22180; Cognitive Anchoring talk and book signing.
The Tangled Web—July 11, 2014, 1–4 p.m.—7709 Germantown Avenue, Philadelphia, PA 19118; Defarge Finished Objects and pattern selection help, plus book signing.
About This Company:
Heather Ordover is CEO and President of Crafting-a-Life, Inc., and its imprint Crafting-a-Life Books which specializes in media and Audiobooks-With-Benefits™—treating literature and history with a light touch and serious enthusiasm.
Contact her at Heather(at)CognitiveAnchoring(dot)com for booking.