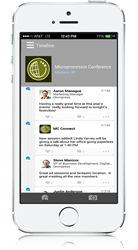 The Connect App offers everything associations need to make their events more social.
Madison, WI (PRWEB) May 29, 2014
Omnipress, provider of educational content solutions for associations, is pleased to announce that it has expanded its mobile event app service to include the Connect App. This product not only provides all of your program information, but also includes several social features, designed to increase attendee engagement.
The Connect App allows attendees to enhance their in-person networking by engaging in social experiences and activities through a mobile event app. Attendees can create profiles within the app and post to a timeline, which other attendees, sponsors, and the association can view. Using an existing social media account, like LinkedIn, attendees can set up a profile in the Connect App without revealing personal contact information. Using person-to-person messaging, attendees can send messages through the app while maintaining their privacy.
Associations can use live polling to engage attendees and invite more active participation. Attendees can answer a poll question on the app and view results in real time. This feature has positive implications for speakers, participants, sponsors, and the association itself. Push notifications are another hallmark of the Connect App. Association staff can communicate time-sensitive information like room changes by sending a push notification to the attendees who downloaded the app. A camera, built in to the app, allows attendees to take and post photos to the timeline.
"Our clients have been requesting these features and we've been listening. The Connect App offers everything associations need to make their events more social. Increasing engagement through polls and the timeline gives attendees a more positive conference experience," said Steve Manicor, Omnipress' Vice President of Business Development. "The Connect App also includes other important features, like session/speaker connectivity, a personal itinerary builder, and GPS-enabled maps."
A mobile event app whitepaper is now available. The Big Ideas Blog will feature posts about the Connect app this week, as will Omnipress' social media pages and feeds on Facebook, Twitter, and LinkedIn.
# # #
About Omnipress
Omnipress helps organizations collect, produce, and deliver educational resources for their members.
Products Include:
--Abstract Management Systems
--Conference Printing
--CD & USB Production
--Digital Publishing Platforms
--Event Content Websites
--Mobile Event Apps
--Poster Print, Fulfillment, & Online Access
--Print-On-Demand & Order Fulfillment
Our customers rely on us for our 35+ years of dedicated customer-service, vast knowledge of associations and undisputed dependability.