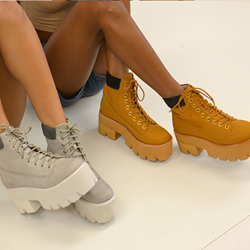 Lutherville, MD (PRWEB) May 30, 2014
On a mission to find the perfect pair of summer shoes? Fully stocked and loaded, Envishoes.com offers a variety of summer must-haves from the likes of Jeffrey Campbell Shoes.
No doubt, two of the hottest summer-ready shoe styles released by Jeffrey Campbell are the Nirvana and the Abner. Both boots are an awesome twist, with a touch of femininity, to the popular Timberland brand boot style.
The Jeffrey Campbell Nirvana is even hotter than its' demand. After the shoes debuted last year, the boot have become a must-have for JC Fans alike. The Nirvana is priced at $199.95 and is the perfect transition boot. Ladies who purchased their boots during the winter can be assured to get plenty of wear out of them for the summer. Just as easily paired with a favorite pair of denim and leather jacket, the boots can also transition to warmer weather with a pair of denim cut-offs and rocker t-shirt. Available in both grey and wheat, every JCGirl will have to get their hands on a pair of Jeffrey Campbell Nirvanas, or both.
The Jeffrey Campbell Abner is certainly another boot that transitions perfectly from cold to warm weather. This boot is a sexier version of the Nirvana, equipped with a high platform, silver buckles and the signature wheat color. Priced at $214.95, the Jeffrey Campbell Abner is certainly for the girl who isn't afraid of height and loves a touch of bad in her wardrobe.
Other hot summer shoe styles at Envi Shoes include:
The Jeffrey Campbell Freema priced at 154.95 and the must-have sandal for the summer. White sandals are all the rage this season, the Freema is bright white seriously sexy platform sandal. While the 6.5" platform can look a bit intimidating, the Freema doesn't disappoint when it comes to the Jeffrey Campbell signature comfort.
The other great sandal for summer includes the Jeffrey Campbell Chella priced at 214.95. Punched cutouts create the look of fishnet on these daring Jeffrey Campbell booties, featuring a fierce peep toe and cutout heel. Another hot trend this season, is white soles, and the Chella sports a stacked white heel and treaded foot!
For more great styles and fashion trends tune into Envi Shoes's Instagram and on their other social media platforms including Facebook, Twitter and Tumblr. With Summer here, new shoes at Envi are waiting to be taken home!
About Envi Shoes
Envi Shoes is an online retailer of fashion-forward designer shoes and accessories, for both men and women, from Jeffrey Campbell, UNIF, Y.R.U., T.U.K., Frye, Deandri, Wolverine, Senso, Rebecca Minkoff and more. Based in Baltimore, Maryland, the company operates solely online with a global reach serving shoe lovers not only in the United States but also in the UK, Russia, Australia, Japan and Hong Kong to name a few.
Who is the Envi Shoes customer?
Envi Shoes likes to think of them as a lover of art, fashion and music. They are the blog readers, the trendsetters and risk-takers. They certainly don't follow the trends; they set them.