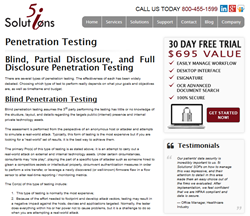 In 8 out of 10 upgrades to a system, third-party providers miss important security updates that leave dangerous holes in your network.
Fort Lauderdale, FL (PRWEB) May 29, 2014
5i Solutions Inc. announces a 12-year anniversary successfully providing Network Penetration Testing, a safeguard for companies in need of proven cybersecurity as well as medical industries seeking to meet the US Department of Health & Human Services HIPAA Security Rule. This hallmark demonstrates expertise in cybersecurity, risk analysis, network vulnerability assessments and most importantly, a strong background in constantly changing security risks and attack prevention.
"The most effective method to discover vulnerabilities within a network is to attack it. The reality is that threats will only increase – and it is increasingly difficult to identify, catch and prosecute these offenders," stated Pat Schaefer, CEO of 5i Solutions, Inc. "The minimal cost involved to carry out an attack, when weighed against the overall effect, creates a natural inclination to utilize technology as a tool to execute an individual's, competitor's, foreign government, or terrorist's agenda."
The network penetration test simulates such a network attack. 5i Solutions develops a full security profile including internet vulnerability, extranet/intranet vulnerability, response and remediation, physical inspection of IT systems, telecommunications, executive/network security policies, telecommunications, application vulnerability, wired/wireless network, and overall education/awareness.
Recent HIPAA Rules require that practices complete a network penetration test to keep sensitive patient information safe. 5i Solutions offers two types of network penetration testing: the Blind Test, and the Full Disclosure Test.
A company should do a Blind Network Penetration Test when they are trying to most closely simulate a real-world attack scenario. Blind Tests have a very exclusive benefit: they give a very realistic test and reveal the current state of the network if they were to experience an attack from an outside malicious host with no foreknowledge of the target systems.
"If you think you may have been attacked, and do not know your vulnerabilities, this is an extreme crisis scenario for your organization or practice," stated Schaefer. "Simply not being aware of your network security level is a 911, needs-immediate-action situation for the 21st century company trying to meet HIPAA compliance, or just stay secure. The worst part? There is no emergency response when it happens. The only defense is the good offense – that's when a Blind Network Penetration Test comes in play."
5i Solutions also offers the Full Disclosure Network Penetration Test. This testing is fully integrated. 5i Solutions team coordinates with the in-house IT Department to get the layout of the IP's, Network, Locations, Application Services, Application Code, etc. Once all the data is processed, 5i Solutions acts as a consultant and auditor of security failures and weak points within the current system.
"In 8 out of 10 upgrades to a system, third-party providers miss important security updates that leave dangerous holes in your network," stated Darren Miller, Senior Network Architect for 5i Solutions. "If you fear an attack, have recently upgraded your hardware or software, or changed your server, it's important to make sure that those who installed the system have a fresh set of eyes to review the updates and most importantly – prevent risky information leaks that can lead to information leaks, competitor attacks and even malpractice suits from HIPAA non-compliance."
About 5i Solutions, Inc.
Founded in 1990, 5i Solutions Inc. is a security and productivity solutions provider with a dual presence in South Florida and Indianapolis, Indiana. 5i Solutions' widespread range of comprehensive enterprise solutions include enterprise content management, cybersecurity, document management, e-discovery, paperless cloud storage, and more.
For more information on enterprise security and consultations with 5i Solutions, please visit http://www.5isolutionsinc.com or contact 800-455-1599.
*Formerly as American Document Management
###