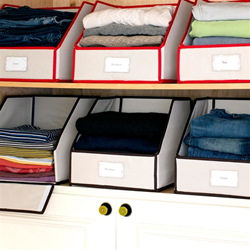 San Francisco, CA (PRWEB) May 30, 2014
Great Useful Stuff is excited to announce the June 2014 feature of GUS sweater bins for organized closet storage in Shop Smart Magazine. Shop Smart Magazine is a quick and easy guide for top reviewed products produced by Consumer Reports, the most trusted name for consumer buying guides.
Sweater Bins for Organized Closet Storage - $22.99
GUS sweater storage bins are a great way to organize your closet. The sturdy sidewalls of the Sweater Storage Bins keep everything from tumbling. The front lid can be pulled down in order to allow easy access. In fact, GUS Sweater Storage Bins are great clothing organizers for sweaters, pants, or anything that stacks, and these essential clothing organizers have a wonderful contemporary look that will compliment just about any home décor. The GUS sweater bins measure 12"x13"x15" and can store 12-14 knit shirts, 6-8 sweaters, or 5-6 pairs of pants. These sweater bins are the perfect choice for anyone wanting to clean up the closet!
9 styles to choose from:

Blue Pin Stripe
Ecru
Blue
Green
Navy
Gray
Ivory/Red
Ivory/Brown
Camel/Chocolate
About Great Useful Stuff:
Great Useful Stuff is a specialty online retailer based in San Francisco that focuses its assortment on making life simple, organized and clutter-free.