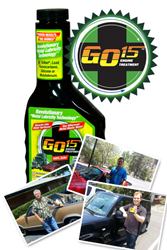 Woodland Hills, CA (PRWEB) May 29, 2014
GO15, a revolutionary engine treatment that measurably increases gas mileage and engine power by reducing engine friction, has been endorsed by System48 Owner Larry DiVento to service all System48 customers going forward.
"We have a great relationship with our System48 Users nationwide," said System48's Larry Divento. "When we decided to halt production we searched high and low for a company to support our valued Customer base. That's when we found GO15 and tested their advanced technology engine treatment. Needless to say we were more than impressed with the results of the product, the GO15 team and their business."
Go-15 is a new high tech engine treatment that creates a chemical bond that reduces friction, heat, water, corrosion, rust and chemical attacks on treated metal surfaces, thus increasing gas mileage by up to 15%, depending on conditions.
"We feel very comfortable recommending GO15 for all our thousands of loyal System48 Clients as we transition our business to the GO15 team," added DiVento.
To welcome System48 customers, GO15 will be giving a 15 percent discount on their first purchase at http://www.GO15.com by using the coupon code "SYSTEM48" at checkout.
About GO15:
New for 2013, GO15 is an engine treatment that uses engine oil as a delivery mechanism. Unlike oil additives, GO15 does not remain in oil. GO15 uses metal lubricity technology to produce a thermal reaction with the metal surface being treated. The treatment works to smooth internal metal engine parts that are subject to high amounts of friction and heat. This reduces friction within the engine and increases fuel economy.
"Before using GO15, I would average about 250 miles on a full tank, now I am averaging anywhere from 270 to 290 depending on the way I drive," stated Ron Presser, a 2006 Subaru Impreza WRX owner. "I've been skeptical about similar products, but a friend of mine convinced me to try GO15 and I'm glad I did!"
Ron is one of many whom have successfully increased gas mileage using GO15.
In addition to reducing costs at the pump, GO15 also gives new life to older vehicles by creating a chemical condition known as Boundary Lubrication, which improves most of all related fundamental operating efficiencies of internal combustion engines. This chemical condition helps protect the internal hardware of older engines and preserves them for better performance in the years to come. GO15 helps restore years of wear on your vehicle by restoring performance and efficiency that have been lost.
Contact GO15 directly at: (877) 728-3383