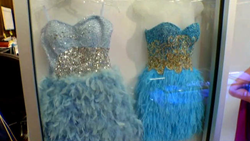 'We see it every year,' says Tina Loyd, Terry Costa CEO and owner. 'Young ladies who learned the hard way: If an online price seems too good to be true, it definitely is.'
Dallas, Texas (PRWEB) May 30, 2014
Terry Costa, Dallas fashion landmark, wraps up Prom 2014 and "saves the day" for many last-minute Prom shoppers with late Prom dates, or online counterfeit shopping horror stories.
"We see it every year," says Tina Loyd, Terry Costa CEO and owner. "Young ladies who learned the hard way: If an online price seems too good to be true, it definitely is."
Loyd says these young ladies are just a few of the wildly increasing number of high school students who are shopping online on illegitimate sites. These sites steal the authorized retailer's ad-shots and post them as their own, posing as a legitimate retailer. Gowns are listed for half the price or more and arrive as a cheap knock-off, if they arrive at all. Loyd says that's when Terry Costa steps in.
"More and more shoppers are coming in last minute because they didn't receive the 'too good to be true' dress they purchased online—or they received a disgusting interpretation of the gorgeous designer gown we have here at the store."
Loyd adds that these shoppers are usually on a budget because they never receive a refund from the phony site—most will not even respond to emails or phone calls at all.
Terry Costa buyers have worked hard to keep inventory up, even in the last few weeks of Prom shopping. This allows for better selection for those girls shopping on a budget along with those who still want something extra-special.
"One of the best parts about our job is that we have the ability to 'save the day,'" says Kristyn Huckeba, Terry Costa General Manager. "We can turn a disaster, like receiving your 'designer' ballgown in a shoebox from a fake website, into the fabulous experience Prom shopping should be—even at the last-minute."
Huckeba says Terry Costa is still well-stocked with the hottest trends for Prom, including asymmetrical cutouts, beaded dresses, lace dresses, and dresses with a perfect balance of all the looks. Top Prom designers are still well-represented on the racks, including Sherri Hill, Night Moves by Allure, Tony Bowls, MacDuggal, Mori Lee Prom, La Femme and Dave and Johnny, the featured designer in their Pin it to Win it contest on Pinterest.
Loyd says average price for a Prom dress at Terry Costa rounds out at about $376. That figure is up about nine percent from Prom 2013. Terry Costa executives anticipate a similar rise next year.
"As long as counterfeiting is a growing problem, I expect we will see a rise in legitimate designer gown prices," Loyd says. "It's an expensive battle to fight and it creates a real sense of urgency in the end when people end up with no gown at all. The best thing to do is to stay away from these sites all together."
Loyd says shoppers should look for "Authorized Retailer" stamps when shopping online. Claims like "custom measurements," and prices that are half of the price of other sites are also red flags. Loyd assures her customers that TerryCosta.com only sells authorized, designer gowns and promises her online shoppers the best shopping experience possible.