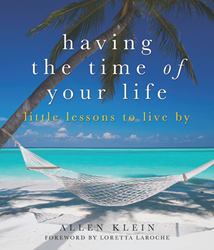 'Life is so precious. Please, please, let's love one another, live each day, reach out to each other, be kind to each other.' —Julia Roberts
(PRWEB) May 29, 2014
How did Allen Klein come to be the world's only Jollytologist, sell over 500,000 books worldwide, and become a successful speaker? Surprisingly, Allen's mission began when he faced life's greatest challenge. When he was a young man, his wife was diagnosed with a rare form of cancer. During his wife's bedside vigil, Allen quickly realized that telling jokes and stories lifted not only his wife's spirits, but everybody else's, including his own. The compelling inspiration of words and the healing power of humor helped everyone cope with the diagnosis and death of his wife at the young age of 34. Allen Klein's purpose is to make people feel inspired again, to bask in laughter and revel in joy. In the busyness of life and the stress of the day-to-day, it is easy to become over-worked and under-joyed.
His newest title, Having the Time of Your Life: Little Lessons to Live By is an easy-to-digest, delightful-to-read book. Klein explores the meaning, madness and mirth of life and dives into the big questions: What's life? Why are we here? And how do we enjoy the journey? He has collected 500 inspiring and uplifting quotations on the endlessly fascinating subject of life itself. From Oprah Winfrey to Abraham Lincoln, the people quoted in this book offer healthy doses of motivation and levity that we all need to live a well-examined life. It is now available as an audiobook as well.
Allen Klein's other recent books now available as audiobooks include Always Look on the Bright Side: Celebrating Each Day to the Fullest, which celebrates the extraordinary in every day moments, and Words of Love: Quotations from the Heart, a collection of the 500 best things every said about love.