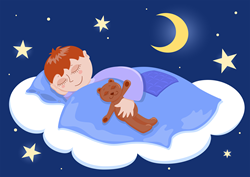 Many parents report that Sleep Coaching has changed their lives.
New York, NY (PRWEB) May 29, 2014
Most parents realize that a child's sleep issues can affect his or her day-to-day attitude and attentiveness. Ancy Lewis, Sleep Coach of Sleeping Little Dreamers, knows from her years of experience, that the effects are much greater. Lewis believes that developing a sleep plan not only promotes healthy sleep habits, but encourages changes in parental response and interaction that can help the child developmentally.
As a certified sleep coach, Lewis works with a variety of children throughout a span of age ranges from 6 months to 6- years-old. "I personally experienced the effectiveness of the Gentle Sleep Lady Method by applying it to my own children," explained Lewis. "Witnessing how sleep coaching can change lives is what led me to become a Sleep Coach."
In her most recent blog post, Lewis compiles some of the benefits she has seen in the children she has worked with. To view the full blog on the benefits of sleep coaching, visit: http://www.sleepinglittledreamers.com/blog. Here are two benefits she mentions:
1. A less anxious child.
Children look to adults for structure and limit setting. When parents do whatever their child demands at bedtime or during the day, it creates anxiety. Without consistent, firm, and kind limits, children do not feel at ease with the power unintentionally given to them. Gentle Sleep Coaching promotes kind and firm limit setting.
2. A child that is more cooperative.
Sleep affects mood. When children get sufficient sleep, they are physically able to handle the disappointments and demands of the day. Parents have reported that their child will show improvement in their ability to follow general rules and routines. Some parents have seen less meltdowns and tantrums. With parents setting appropriate structure and routine and responding firmly, children are less likely to be resistant to other activities they don't look forward to. Parents have reported fewer battles around activities that their child once found unpleasant.
About Sleeping Little Dreamers:
Sleeping Little Dreamers is devoted to providing Sleep Coaching services to parents of children ages 6 months to 6 years with sleep issues. Owned by a social worker, Sleeping Little Dreamers offers individualized sleep consultations that address the needs, values and parenting philosophies of each family. Sleep consultations can be done by phone with parents all over the world, or in person for those in the Westchester County, NY area. With the collaboration and support of Sleeping Little Dreamers, parents have either experienced vast improvements in their child's sleep or a complete resolution of sleep issues. For more information, please visit http://www.sleepinglittledreamers.com.