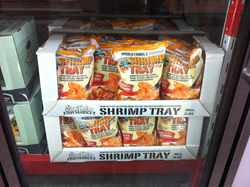 "In some locations, our month to date numbers are up over 200% from the previous month, which were an all time high as well and we are just getting started," said Mike Ungaro Vice-President, San Pedro Fish Market
San Pedro, CA (PRWEB) May 29, 2014
California's largest seafood restaurant, San Pedro Fish Market and Restaurant, announced this morning that it has sold record amounts of its products through 750 retail outlets across four states.
"In the last month, we have introduced our new 48 oz bag at Sams Club, new spices and sauces at Vons, and two new shrimp dinner flavors, Mojo de Ajo, and Diablo at Vons and the volume has been unprecedented," said Mike Ungaro, Vice-President of San Pedro Fish Market. "We are finding that we are running months ahead of our goals and it has been awesome to see cases of product roll out by the ton and know they are going to meet up with families very quickly."
Starting four years ago, San Pedro Fish Market and Restaurant, which serves more than 20,000 diners a week in its 3,000-seat restaurant that has received almost 7,000 5 star reviews, began to develop products for retail locations.
"Retail has taken a little while to understand, build partnerships, while staying absolutely authentic to San Pedro and the quality and flavor our guests crave," explained Mike Ungaro. "In some locations, our month to date numbers are up over 200% from the previous month, which were an all-time high as well and we are just getting started."
The ingredients for the retail products which range from a 48 oz shrimp tray in a bag that serves 8 in ten minutes to spices and sauces made famous at the world-famous San Pedro landmark are precisely what is served at the Market.
"We have guests that routinely drive 100 miles and wait in line so that they can have Mother's Day or Father's Day lunch on our deck. These loyal guests know when a flavor isn't exact or a texture is wrong," said Mike Ungaro. "They have faith in us that we will always do our best and whether they are in San Pedro or in Sam's Club 60 miles away or in Hawaii at Times Market they are getting our authentic best."
ABOUT SAN PEDRO FISH MARKET & RESTAURANT
Founded in 1957, San Pedro Fish Market & Restaurant has grown into a top rated destination on the LAWaterfront whose seafood, Lonely Planet described by saying, "Seafood feasts don't get any more decadent than at this family-run harbor-view institution." Routinely serving more than 20,000 diners each week, San Pedro Fish Market is also one of the most recognized brands in the frozen food section of more than 750 premium and mass market supermarkets across the Southwest and Hawaii where consumers can pick from four microwavable versions of our world famous shrimp tray. Just as at the restaurant and market, all ingredients are the freshest available and meant to be prepared and enjoyed directly in the kitchen with your favorite ice cold beverage. For more information, go to our website at http://ow.ly/obvmS.
In the past year, San Pedro Fish Market and Restaurant has helped 35 San Pedro community charities as part of their effort to strengthen the communities of the Los Angeles Harbor area.