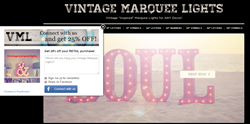 'ShopSocially is turning our customers into social brand ambassadors.' - Jerrad Green, Owner at Vintage Marquee Lights
Mountain View, California (PRWEB) May 30, 2014
Popular retailer for décor items, Vintage Marquee Lights (VML), today announced its social commerce success using ShopSocially. VML is turning website visitors into social brand ambassadors. VML is encouraging website visitors to become Facebook fans through a Like-gated incentive. 22.71% of website visitors who were shown this fan acquisition app are converting into real Facebook fans for VML. Customers are connecting with VML brand on Facebook and generating high quality referral traffic to their e-commerce store. VML is identifying social brand influencers who are generating a high number of social referral clicks with most influential social shopper generating as high as 83 referral clicks.
"Passion for creative designs is the key for success of Vintage Marquee Lights. Our customers are sharing this passion of ours far and wide on social media and getting us quality friend traffic," commented Jerrad Green, Owner at Vintage Marquee Lights. "ShopSocially is turning our customers into social brand ambassadors."
Vintage Marquee Lights used ShopSocially's Get-a-Fan app to convert website users into quality Facebook fans. Users were offered an inline incentive for Liking VML on Facebook. 22.71% users who were shown this app converted into Facebook fans for VML, rapidly increasing their fanbase. Since users felt they have 'earned' the incentive by performing a social action of liking, they converted well on VML site.
Using ShopSocially's Social Connect app, VML also encouraged website users to connect deeper with their brand on Facebook. In process, users shared their rich social profile data with VML complete with information like age, gender, location, likes and friend information. As thousands of users connected with VML brand, they created social posts endorsing VML products and brand on Facebook. This brought quality friend traffic back to e-commerce store. VML identified social brand influencers with most influential shopper generating as high as 83 referral clicks.
Onsite social commerce strategies helped VML generate below impressive numbers:

22.71% users who were shown the fan-acquisition app became real Facebook fans of VML.
Thousands of users converted into social brand ambassadors through Facebook Connect.
High click-through for social posts, with most influential shopper generating 83 referral clicks.
"C2C strategies can help retailers drive word-of-mouth promotion of their brand on social media. Social brand endorsement by customers is the key to social commerce success for retailers," said Jai Rawat, CEO of ShopSocially. "We are happy to extend creative passion of Vintage Marquee Lights on social media and drive viral spread of their brand."
Retailers' efforts to sell on social media channels like Facebook have seen mixed results because of lack of purchase intent of users when browsing social media. In contrast, onsite social commerce strategies leverage the obvious purchase intent and interest in brand of user when they are on an e-commerce site. This yields in better results. By adding a layer of social on their e-commerce site, retailers can turn their website into a word-of-mouth powerhouse and drive a meaningful uplift in sales conversion rate and revenue.
About Vintage Marquee Lights:
Vintage Marquee Lights is producer of beautifully crafted statement marquee lights. Vintage Marquee Lights tell a story in an instant. Charming, unique, and full of soul, each light breathes personality into your space. They're the original creation of husband and wife team Jerrad and Machel Green, and designed to echo American freedom and artistic spirit. VML is the top selling décor item on Etsy.
About ShopSocially
ShopSocially is a SaaS social commerce platform driving millions of dollars in incremental revenue, new customer acquisition, improved SEO rank, growth in Facebook fan base, and word-of-mouth branding for 100s of top brands.ShopSocially platform enables a suite of onsite social apps for ecommerce sites. Examples of these apps include purchase sharing, fan acquisition, shopping community, social SEO, social photo testimonials on mobile and more.
ShopSocially has won several awards and has also been featured by Facebook in a Social Commerce case study. Launched in Oct 2010, ShopSocially is a privately held company in Mountain View, CA. For contact information, please visit: http://shopsocially.com/platform/request-a-demo.html.