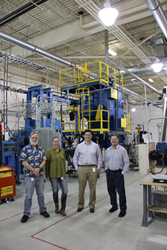 "The Encell Nickel Iron battery delivers unrivaled cycle life, high discharge rates and maximum efficiency".
Denver, CO (PRWEB) May 30, 2014
For the first time in 40 years, Thomas Edison's Nickel Iron Battery is back being built in the USA by Encell Technology in Alachua, FL. Encell has chosen Iron Edison to be the first US distributor of the US made Nickel Iron Battery. The USA Series batteries can be configured online at http://ironedison.com/iron-edison-usa-series-nickel-iron-nife-battery.
The Nickel Iron Battery was first developed by Thomas Edison in 1901, and was used in electric vehicles. Edison's batteries were made in the US from 1903 to 1972 by the Edison Battery Storage Company located in East Orange, NJ. In 1972 the battery company was sold to the Exide Battery Corporation, which discontinued making the battery.
Today, Nickel Iron batteries are used in renewable energy systems and are known for their longer life, and ability to deep discharge. Utilizing their patented Fused Iron Technology, Encell's Nickel Iron Battery is unique providing higher charge and discharge rates, wider depth of discharge and unmatched cycle life.
Maggie Williams, co-owner of Iron Edison, proclaims, "Most of our customers want a product made in the USA, but until now we have only been able to import our nickel iron cells. I am so excited that we can now finally offer our customers a quality product made in Florida by Encell Technology. This Partnership will support new US manufacturing jobs and millions in dollars of domestic new goods. As a small business owner, this is very rewarding."
Encell Technology leads in the design, development and manufacturing of next-generation batteries and battery management systems from their state of the art facility in Alachua, Florida. The Iron Edison USA Series battery is different than any other because of Encell's patented Fused Iron Technology . The Fused Iron electrodes increase the Nickel Iron battery's efficiency and performance Rob Guyton, Jr., Chairman and Co-Founder of Encell, added, "Encell Technology delivers batteries with unrivaled life and robustness, high power performance and efficiency. We are excited about our partnership with Iron Edison which allows us to showcase our product's unique properties."
Iron Edison is now accepting pre-orders for the USA Series Nickel Iron battery, which will be available July 4, 2014. Iron Edison strives to offer you the best price and best service for the nickel iron battery and has a team of certified system designers available to answer any questions.
Iron Edison is redefining energy storage using advanced Nickel Iron battery technology. The Iron Edison battery achieves a remarkable 25+ year lifespan. Unlike the competition, the internal components don't degrade over time. Iron Edison battery systems are adaptable to residential and commercial applications, and are personally designed to fit the customer's specific needs and budgets.
Nestled in the foothills of the Rocky Mountains, Iron Edison Battery Company, http://www.ironedison.com, is a leader in cutting edge solar, inverter and battery technology. Iron Edison has partnered with the National Renewable Energy Laboratory and Clean Launch Business Incubator for comprehensive product testing and business development. The company offers a wide range of products and services designed to help people be more prepared with off-grid power and battery backup systems. For more information, feel free to email us at info(at)ironedsion(dot)com or call 720-432-6433.