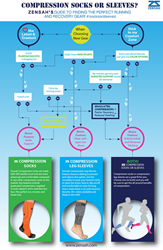 Should I wear compression socks or compression leg sleeves?
Miami, FL (PRWEB) May 30, 2014
Athletic compression leader, Zensah®, has launched a new marketing campaign that guides runners through the decision of choosing compression socks or compression leg sleeves.
The campaign introduces the hashtag #socksorsleeves that poses (and aims to answer) the question many runners are asking themselves, "Should I wear compression socks or compression leg sleeves?"
Zensah® has the number one selling compression leg sleeves in the USA, and is recognized by athletes for the technology and comfort found in each of its products. Zensah® is compression for all, offering products worn by all level athletes ranging from those training for their first 5k to Olympians.
The campaign seeks to emphasize the "compression for all" message by helping runners find the best gear for their training, racing, and recovery. The #socksorsleeves campaign includes in-store marketing efforts and training in addition to online and social media content. Launched in May 2014, the campaign will run through all of 2014.
Both Zensah® Compression Socks and Compression Leg Sleeves offer great features to benefit any athlete. The Zensah® Tech+ Compression Socks are made with 200 needle count for a more durable and better fitting sock. It features targeted support to the arch, ankle, calf and shin. The Zensah® Compression Leg Sleeves feature chevron ribbing to relieve shin splint paint and make it easy to wear for recovery with open toed shoes.
To learn more about Zensah®'s #socksorsleeves campaign, visit http://www.zensah.com or stop by your local running specialty store.
About Zensah®: Zensah®, is a Miami-based company, specializing in athletic compression apparel. Their compression socks and sleeves are loved by athletes and fitness enthusiasts, including runners, cyclists, and triathletes. Zensah® offers compression for running and recovery. According to Leisure Trends Group Specialty Running RetailTRAK™, Zensah has the number one selling Compression Leg Sleeves in the US for Run Specialty.
Parker Robinson
marketing(at)zensah(dot)com
ZENSAH COMPRESSION APPAREL
(305) 935-4619