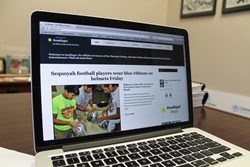 Tulsa, OK (PRWEB) May 29, 2014
The Cherokee Nation has been named a national finalist in four categories of the prestigious PR Daily Awards, bestowed annually by Ragan Communications. Cherokee Nation is the only tribal nation to ever be recognized by the organization and is competing against some of the world's largest brands, such as Coca-Cola, Adidas, Nissan and the Tiger Woods Foundation.
"Our communications teams at Cherokee Nation and Cherokee Nation Businesses always find new and creative ways to keep Cherokee citizens across the United States informed of valuable news and information about the tribe," said Cherokee Nation Principal Chief Bill John Baker. "Many Cherokee citizens live outside of Oklahoma, and it's especially important to keep them engaged, so they feel close to their tribe despite the distance. I want all Cherokees to know as much as possible about their tribe, so we use every tactic possible to reach them, from social media to an online newsroom, e-newsletters, direct mail and more. Engaging our community and keeping our people connected are vital in the strength and success of our tribe."
For more than 40 years, Ragan Communications has led the way nationally in training, development and best practices in the public relations industry. More than 800,000 communications professionals worldwide subscribe to Ragan publications.
"We're proud to see our communications teams recognized for their outstanding work," said Shawn Slaton, CEO of Cherokee Nation Businesses. "These employees communicate in ways that even many Fortune 500 companies do not. That's evident in the large corporate brands being recognized alongside the Cherokee Nation. We're grateful to have such a talented staff, and I applaud their efforts."
Cherokee Nation and Cherokee Nation Businesses were named finalists in the following categories:

Annual Report
External Publication
Online Newsroom
Public/Governmental/Civic
"We're fortunate to have remarkably talented people working hard every day to tell the story of the Cherokee Nation and our people," said Amanda Clinton, director of communications for Cherokee Nation and CNB. "We know our jobs are important in keeping Cherokees informed of the activities of their government, and we take that job very seriously. It's also been a tremendous help to have the support of our leadership in allowing us to think outside the box and try new things. It truly is a team effort, and we couldn't be more proud of this recognition."
ABOUT THE ENTRIES
In the Annual Report category, CNB is a finalist for "Proud Partner of Oklahoma," a report telling the story of the tribe's $1.3 billion economic impact on northeast Oklahoma. The report illustrates the impact on local businesses and individuals, both Cherokee and non-citizens. It is up against six other finalists, including Tiger Woods Foundation and Coca-Cola de Mexico. The report can be found at http://www.CherokeeNationImpact.com.
"Where the Casino Money Goes" is a finalist for External Publication. It is published three times per year in the Cherokee Phoenix newspaper, distributed at more than a dozen Cherokee Nation health centers and other locations, and posted online at http://www.WhereTheCasinoMoneyGoes.com. The publication clearly and concisely details how casino profits are spent and shares individual stories about how casino profits impact the lives of Cherokee citizens. Other finalists include the Federal Reserve Bank of Dallas.
In the Online Newsroom category, Anadisgoi.com is a finalist, competing against online newsrooms such as Coca-Cola Journey (206 for The Coca-Cola Company), NissanNews.com (Wieck for Nissan Americas), Adidas NEWS STREAM (The News Market for Adidas) and four other organizations. "Anadisgoi" [pronounced AH-na-dee-sko] is the Cherokee word for news.
The site is the Cherokee Nation's official online newsroom and heavily incorporates social media elements. It serves as a gateway to both media and news consumers, providing downloadable photos, video, documents and graphics. Launched just over a year ago, it's the first time all Cherokee Nation news has existed in one location, ranging from government services to cultural activities, to business news and more. The site can be accessed at http://www.Anadisgoi.com.
The Cherokee Nation's announcement of a more than $100 million health care investment in tribal infrastructure is a finalist in the Public/Governmental/Civic category. The live event combined traditional media, social media, graphics, and audio and video elements to unveil the details of a $100 million appropriation of funds from the tribe's casinos and other businesses to revamp Cherokee Nation's health care system. Using infographics, patient testimonials and a social media campaign, construction plans were revealed for four new health centers and a new hospital.
Construction is currently underway at those facilities in Jay, Sallisaw, Stilwell and Ochelata. Hospital construction in Tahlequah is slated to begin later this year. Other finalists in the category include Dallas-Fort Worth International Airport and the New Jersey Development Authority.
Winners will be announced within the next two weeks. The Cherokee Nation has one previous PR Daily win under its belt. "Where the Casino Money Goes" received top honors for External Publication in 2012. Cherokee Nation is the first and only tribe to ever receive such an honor.
Ragan Communications competitions are the most prestigious in the public relations and corporate communications industry. With more than 800,000 readers monthly, Ragan news sites are read by communication professionals in every country in the world, with nearly 600,000 in North America. For more information, visit http://www.prdaily.com.
For all the latest Cherokee Nation News, visit http://www.Anadisgoi.com.
-30-
About Cherokee Nation
The Cherokee Nation is the federally recognized government of the Cherokee people and has inherent sovereign status recognized by treaty and law. The seat of tribal government is the W.W. Keeler Complex near Tahlequah, Okla., the capital of the Cherokee Nation. With more than 300,000 citizens, 9,000 employees and a variety of tribal enterprises ranging from aerospace and defense contracts to entertainment venues, Cherokee Nation is one of the largest employers in northeastern Oklahoma and the largest tribal nation in the United States. For more information, visit http://www.Cherokee.org.
About Cherokee Nation Businesses
Cherokee Nation Businesses is the tribally owned holding company of the Cherokee Nation, the largest Indian Nation in the United States. The Cherokee Nation and its businesses employ 9,000 people. CNB owns companies in the gaming, hospitality, information technology, personnel services, distribution, manufacturing, telecommunications, environmental services and security and defense industries. For more information, please visit http://www.cherokeenationbusinesses.com.