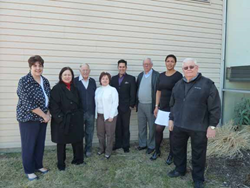 "My goal in being a new Board member is to continue to build trusted relationships via my integrity and professionalism as demonstrated in the IARFC's Canons of Ethical Behavior." ... Newly elected Board Member Michelle Blair.
Middletown, OH (PRWEB) May 30, 2014
The new additions are: Michelle Blair, RFC® from Design Capital Planning Group in Smithtown NY; Pete D'Arruda RFC®; CSA from Capital Financial Advisory Groups, LLC in Cary NC; Rik Saylor, RFC® from Rik Saylor Financial in Fairfield OH; and Angie Trandai RFC®, CEP, CFP® from Trandai Financial Solutions, LLC in Orlando, FL.
Michelle Blair's position at Design Capital consists of marketing, manpower development and management. She is responsible for the training and education of the existing staff as well as recruiting new hires. Her role combines human resource and office management functions to obtain a solid consistency in staff management. Michelle also coordinates and implements the educational workshops and courses offered by The Institute for Financial Education.
Pete D'Arruda, known as "Coach Pete" has been the host of the nationally syndicated radio and television program, Financial Safari and is the author of numerous financial books. He is a highly sought after speaker and has been published in many magazines, on websites, in newspapers and has been a guest on radio and television shows including CNN Finance, Fox Business News, Smart Money, MSNBC, Bankrate.com, Yahoo! Finance, Thestreet.com and many more.
For over 30 years, Rik Saylor has helped hundreds of families grow, protect, use and pass on wealth. Rik's development of an independent firm allows him the liberty of providing holistic financially objective advice to the families served. As an Investment Advisory Representative, Rik offers truly comprehensive financial planning with awareness to lifestyle and income. Host of "The Rik Saylor Financial Wealth Management Hour", Rik shares his experience on a weekly basis with listeners on the internet and radio, enlightening them to make better financial decisions.
Angie Trandai is committed to helping her clients retire and secure their future with confidence. Since 1996, she has helped hundreds of Procter and Gamble employees, self-employed business owners, and many others with retirement and estate planning with tax efficiency. With her unique education approach of: "thinking out of the box" and "troubleshooting" skills, combined with her compassion of caring for others, she effectively develops solutions to help her clients reach their goals.
"I am pleased at these four candidates who will join our esteemed Board of Directors," says Board Chairman Ed Morrow. "Their diverse experience will only enhance the makeup of the Board as we move the Association forward with new programs and direction. We appreciate their support."