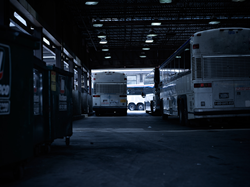 "I will tell you that those who are involved in the sex trade are incredibly vulnerable to violence and to death," says Toronto Police Chief Bill Blair.
Toronto, ON (PRWEB) May 30, 2014
Toronto Police Chief Bill Blair and Covenant House International President Kevin Ryan recently spoke out at a gathering of supporters about the need to support young victims of human trafficking in Toronto.
Chief Blair is a passionate proponent of giving youth involved in human trafficking the supports they need to move forward. Blair spoke about his own personal evolution on the issue of prostitution. As a "beat cop", he explained, his job was to enforce the law. But over his many years in service, he has seen how young people who get involved in sex work are often exploited and victimized. As a community leader today, he is most interested in how enforcement, in partnership with community organizations like Covenant House Toronto, can improve the lives of the young people ensnared in prostitution and human trafficking.
"I've spent most of my career right down here in the downtown core, in these streets. And, I've seen the devastating impact that a lack of care, a lack of compassion, a lack of a safe place can have on young people in the city," Chief Blair shared. "I will tell you that those who are involved in the sex trade are incredibly vulnerable to violence and to death. Our responsibility is to keep the most vulnerable people in our society safe."
"The overwhelming majority of kids living on the street are not out there because of any choice that they made. Circumstances in their lives have forced them onto the street. And put them out there in an incredibly vulnerable position," Chief Blair explained. "When you're out there on the street with them, you can see the risk that they face. You can see that there are predators circling at the bus station, over in front of the all-night restaurants and coffee shops, looking for opportunities to harm these kids and to take them into a life of exploitation. And, technology has changed the nature of prostitution and human trafficking in our society. Much of this is taking place on the Internet and it's an enormous challenge for us to reach those young people who are being exploited in our community."
Chief Blair also spoke about how a partnership with Covenant House helps the Toronto Police. "For my investigators, Covenant House is an important place where they can connect to help young people being exploited. These kids come to Covenant House, because they know the compassion and love that they will find, and they trust it. When they see the police are good, honest partners with Covenant House, it enables us to connect with those victims, provide them with support and deal effectively with those who have exploited them," he said.
Kevin Ryan, who came in from Covenant House International headquarters in New York City for the event, has spent his life serving vulnerable young people. He spoke about human trafficking here and in other cities throughout the Covenant House International network, which serves homeless youth from Alaska to Latin America.
"l think it's beyond our circle of influence to focus on ending 'demand' for prostitution. But, we can have a lot to do with ending 'supply'," Ryan explained. "With a lot of heart and a lot of resources, we can address the vulnerabilities that make kids susceptible to exploitation."
Executive Director Bruce Rivers also spoke about the need for all of us to do more to support youth who are being exploited. He estimates about 30 percent of the youth the Covenant House Toronto serves has engaged in some kind of "survival sex", which includes trading sex for money, food or shelter.
"Too many of our young people that we see have suffered this type of experience. There's a striking pattern to it all—the initial seduction, the attendant shame, the entrapment, the confusion, the eventual violence and other erosions of the spirit. What we've learned over the years, though, is that there is a way forward," Rivers said.
The needs of these youth are very complex and they require compassionate, specialized care to recover. They also require more transitional housing options in the community with comprehensive, specialized wrap-around support.
Over the past three decades, Covenant House has opened its doors to hundreds of homeless youth who have been exploited in the sex trade.
As the country's largest agency for homeless youth, Covenant House provides the widest range of services under one roof to about 3,000 youth annually.