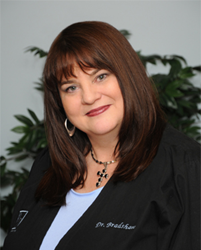 The Woodlands, TX (PRWEB) May 29, 2014
During Stroke Awareness Month this May, Dr. Gayle Bradshaw is encouraging patients to reduce their risk of experiencing a stroke by scheduling an appointment for gum disease treatment in The Woodlands. Research has shown that people with gum disease have a heightened risk of stroke, and though the exact reason for the relationship is not known, people can benefit from eliminating this potential risk factor. Dr. Bradshaw offers patients various periodontal disease treatments that can address the condition and mitigate the health risks associated with it.
Gum disease is a health condition that will affect many people at some point. The Centers for Disease Control and Prevention estimates almost half of adults over 30 have gum disease. The condition can raise the risk of various health problems, but stroke is one that is often overlooked. Unfortunately, research from the American Stroke Association indicates people with gum disease have more than four times the risk of stroke than those who do not have this oral infection. The conditions may be linked because periodontal disease allows harmful bacteria to enter the bloodstream, leading to inflammation throughout the body, which can raise the risk of other health problems.
It benefits people to do whatever they can to prevent stroke, including visiting Dr. Bradshaw for gum disease treatment in The Woodlands, because stroke is such a serious and prevalent health condition. The CDC reports that strokes claim more than 800,000 lives a year, or one life every four minutes. Not all strokes are fatal, but surviving stroke victims may have to live with serious issues such as paralysis and difficulty speaking; in fact, stroke is the foremost cause of long-term disability. People who visit Dr. Bradshaw for periodontal disease treatment are making an investment in their long-term health and wellbeing.
Dr. Bradshaw performs numerous procedures to treat gum disease, including gingivectomy, scaling and root planing, periodontal maintenance, and laser gum surgery. The ideal procedure depends on the extent of the patient's gum disease and the presence of any other oral health problems. Patients can visit Dr. Bradshaw's website to learn more about available treatments or other health risks that come with leaving gum disease untreated. People who would like to schedule a consultation about gum disease treatment in The Woodlands with Dr. Bradshaw are welcome to call her office directly.
About the Practice
Bradshaw Periodontics is a periodontal practice offering patients personalized dental care for The Woodlands, Texas since 1998. Dr. Gayle Bradshaw graduated Magna Cum Laude in 1994 from The University of Texas Health Science Center San Antonio Dental School. Dr. Bradshaw and her family moved to Houston to complete her Master's Degree in periodontal surgery at the University of Texas Dental Branch where she completed her studies in 1998. In 2000, she earned her Board Certification from the American Board of Periodontology. Dr. Bradshaw is part of one percent of dental professionals providing the LANAP® FDA cleared laser procedure for gum disease and periodontal treatment. To learn more about Bradshaw Periodontics and their dental services, visit their website at http://www.bradshawperiodontics.com and call (281) 377-8409.