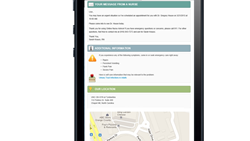 'Keona's evidence-based protocols help ensure a high standard of care for every phone call.' - Joseph Ponzi, MD.
Chapel Hill, NC (PRWEB) May 30, 2014
Keona Health has announced that Goldsboro Pediatrics has selected Keona Health to facilitate patient triage in order to further its mission to provide the best possible care whenever and wherever children need it.
Keona Health allows patients to call, or to go to the clinic's website or patient portal, to ask for health advice. Their health interview is facilitated through an intelligent, automated interview process. Practices quickly respond back to patients with recommendation and education. Patients communicate their concerns in the most efficient way possible, and practices enforce a standard of care across calls while minimizing time and effort.
"Keona's evidence-based protocols help ensure a high standard of care for every phone call," said Joseph Ponzi, MD. "80% of phone calls into our practice are low acuity. Keona's automation facilitates these encounters and allows our staff to focus our attention on the high acuity cases."
Today, the average U.S. medical practice receives 2,000-3,000 phone calls per year for each medical provider. With each triage call estimated to take 10-15 minutes, a clinic with three medical providers may spend as many as 1,500 hours each year in answering these phone calls. Studies have shown that Keona Health's application allows nurses to spend 43 percent less time on phone calls while still offering efficient triage and accurate diagnoses.
"Keona Health's software tools are aimed at providing relief for what is widely recognized to be one of the biggest pain points in medicine today, patient call support," said Oakkar Oakkar, CEO of Keona Health. "Our approach improves response time, reduces cost, and increases patient and staff satisfaction."
About Keona Health
Keona Health helps healthcare professionals communicate with their patients while relieving the telephone burden. Keona is dedicated to give patients access anytime and anywhere with the trust and convenience they deserve, making care more personal, accurate, and easy. For more information, see http://www.keonahealth.com.
About Goldsboro Pediatrics
Goldsboro Pediatrics is a leader in pediatric care, who is involved in national and statewide projects to improve the healthcare of all children. Goldsboro Pediatric physicians and providers have trained at some of the leading pediatric programs in the country and have more than 120 years of combined medical experience. For more information, see http://www.goldsboropediatrics.com.