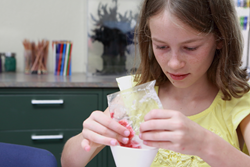 Hands-on learning provides students with the experiences that they need to develop and demonstrate essential 21st-century skills.
San Jose, CA (PRWEB) May 30, 2014
As students eagerly await summer vacation, most parents are busy planning activities to keep their children occupied during their months away from school. However, just because school is out doesn't mean learning should stop. Summer is an ideal time for parents to take advantage of warm weather and extra time to create fun at-home learning environments that bridge a formal education gap and help students adjust to the new national curriculum standards.
Today's teachers need to assess the achievement of their students based on practices that include developing models, constructing explanations, and designing solutions. The majority of the country's schools are in the process of implementing the Common Core State Standards and Next Generation Science Standards, which aim to prepare students for success in school and the workforce by building 21st-century learning skills including critical thinking and problem solving. In addition to planning external activities such as camps, summer school, and library trips, parents can also formally and informally help children develop these skills.
One way for parents to assist during this transition and prevent summer learning loss is through engaging children in hands-on learning activities, which are especially memorable during the season of decreased academic pressure. Hands-on learning provides students with the experiences that they need to develop and demonstrate essential 21st-century skills. By building models and playing games that reinforce math, science, and language arts, parents can encourage deeper exploration of topics addressed during the school year.
RAFT has spent two decades working with teachers to develop innovative learning tools for classroom use, which are equally effective and easy to use at home. Instructions for more than 700 do-it-yourself hands-on activities are available for free online, and are searchable by subject and grade, to easily find something that matches student interest and ability. For additional ease and time savings, several activities are also available as affordable, pre-assembled kits, including fun math games like Flip Over Fractions and engaging outdoor kits such as the Solar Jitterbug.
Parents do not need formal training to be effective educators. Showing interest, asking questions, and encouraging children to explain thought processes are very effective ways to develop learning. To help understand the material students are expected to know and develop questions to ask which encourage critical thinking and communication, parents can access grade-relevant discussion guides from the National PTA. By increasing dialogue and making learning fun through hands-on activities, parents can make summer both memorable and beneficial for children.
About Resource Area For Teaching
RAFT believes the best way to spark a love of learning for the next generation of thinkers, innovators, problem-solvers and creators is through hands-on learning. A nonprofit organization since 1994, RAFT serves 12,000 educators each year who teach over 900,000 students. Find out more about RAFT and how to get involved at http://www.raft.net.