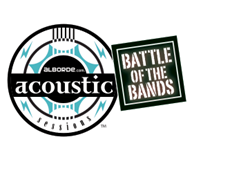 We are extremely thankful with Al Borde for supporting and appreciating our development as artists.
Los Angeles, CA (PRWEB) May 30, 2014
Spanish rock fans flocked to Al Borde's free Acoustic Sessions on Thursday, May 22nd at La Huasteca, in Los Angeles, for an unprecedented evening that showcased the "Battle of the Bands" competition, the first of its kind in 17 years of Al Borde's history.
Each of the "Acoustic Sessions" concerts reaffirms Al Borde's continued support for the evolution of the Los Angeles music and rising artists in today's music scene. This time, three emerging local alternative bands, Kronica Azul, Proyecto E, and Bilingual Delinquent, were chosen as finalists among hundreds of gifted artists from which only one group stole the votes of the eager crowd.
Captivating over 100 people in attendance, finalist and headliner Kronica Azul, an indie alternative Spanish rock band from LA, performed a mix of Mexican and American rock. Following this talented group was Proyecto E, an independent music production who set the mood with its Spanish rock songs embodying inspirational messages of overcoming daily challenges in life.
"We are extremely thankful with Al Borde for supporting and appreciating our development as artists," shared the six members of the band minutes before their performance. "Even if we don't win tonight, we will keep participating in future contests and following Al Borde's effort on building the Latino indie/alternative music scene everywhere."
The mood was already set with the fans of the female pop-rock music band and winner of the night, Bilingual Delinquent. Their performance charmed the animated crowd with a fusion of music influences from Rock, Pop, Ballad, Latin styles, Classic, Rock, and Rumba. Unaware that they were destined to conquer the stage, the four members proved themselves in a historic event where the female-powered melodic tunes will be remembered for a very long time.
Excited about their win, Bilingual Delinquent wasn't thinking about the competition. "We wanted to have fun and perform for the people who came to support us. After all, they were the ones in charge of voting, so the crowd deserved a good show."
Now, Bilingual Delinquent will compete against a new group of finalists at Al Borde's upcoming summer concert on July 10th, 2014. After this exciting one-year competition the winner will open the most expected event of 2014: "Día de los Muertos" concert on November 2nd, 2014.
In addition to the performances of these leading bands, attendees also enjoyed drinks and prizes courtesy of the event's main sponsor, Jack Daniels. Among the many promotions, the most coveted prize of the night was an electric guitar signed by singer and songwriter, Julieta Venegas. The dynamic Al Borde events team managed to conduct a very successful raffle through social media using the event's hashtag #ABMusica.
About Al Borde and Acoustic Sessions
The "Acoustic Sessions" is a series of VIP rock concerts presented by Al Borde, a premier media outlet reaching the 18 to 34-year-old Hispanic demographic. AlBorde.com is a leading Latin Alternative multi-platform company that offers advertising opportunities through sponsored events, section sponsorships, street team promotions, web sites, and mobile services. Al Borde is owned and operated by EC Hispanic Media company, a multi-media publication and advertising solutions company with advertising platforms in print, online, and grassroots events.