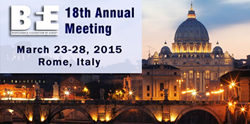 Submissions are now being accepted for workshops, oral presentations and posters.
London, England (PRWEB) May 30, 2014
The BFE Annual Meeting is an interdisciplinary biofeedback conference to nurture communication and education between specialists from different disciplines. Experts from neurofeedback, biofeedback, psychology, medicine, physical therapy, education and other disciplines come together to share and learn. The meeting offers a broad range of basic and applied psychophysiology and biofeedback workshops along with in-depth presentations (lectures, symposia, paper sessions, and posters) during the scientific program. The workshops are instructed by internationally recognized clinicians, educators and researchers who will demonstrate their latest clinical/educational biofeedback treatment approaches.
Call for Submissions
Submissions are now being accepted for workshops, oral presentations and posters. The deadlines for submissions are as follows:
July 15, 2014 - Workshops and invited speakers
October 1, 2014 - Symposia, paper sessions and oral presentations
November 1, 2014 - Poster presentations
To download a submission form, please visit the BFE Meeting Website.
Past Conference in Venice, Italy, February 11-17, 2014
The BFE would like to thank everyone who helped make its 2014 conference in Venice, Italy a success. Special thanks to our host, the Instituto Universitario Salesiano Venezia (IUSVE), for providing a wonderful setting for the meeting. In addition to attendees from throughout Italy, participants were welcomed from Europe, Asia, North and South America, South Africa and Australia.
The Scientific Day included an invited lecture by Dr. Steven Porges on The Polyvagal Theory: Demystifying the Link Between Social Behavior and Health and Dr. Inna Khazan spoke on Meditation and Biofeedback: Combining Eastern Traditions with Western Gadgets. Other presentations covered a range of topics including recovery from the multiple effects of concussion (Drs. Lynda and Michael Thompson), traumatic brain injury (Jay Gunkelman) and seizure control and epilepsy (Rivi Sela, M.S.W.).
The meeting included workshops by :

Drs. Lynda and Michael Thompson who presented a 5-day neurofeedback workshop sequentially translated to Italian.
Dr. Erik Peper who took part in two workshops - one on biofeedback fundamentals and one focusing on heart rate variability.
Dr. Leah Lagos, who taught about peak performance and sports.
Dr. Antonio Martins-Mourao who addressed OCD and Anxiety.
2014 Venice Meeting Abstracts
The abstracts from the Venice meeting can be viewed in the BFE's e-journal Psychophysiology Today along with an original articles by Dr. Erik Peper, on healthy brain development; Dr. Frederic Shaffer, on the Biofeedback Certification International Alliance (BCIA) in Europe and a stress tip by Arnold Shapiro, M.D.
About the Biofeedback Federation of Europe
The Biofeedback Federation of Europe (BFE) is a community interest company in the UK leading the way to share knowledge in the field of biofeedback. Through its "Learn From the Best" program, it offers a variety of webinars, online classes, courses, software and workshops with applications in healthcare, mental health, optimal performance and sport. Content is developed independently by International Research & Education Project teams. For more information, visit the BFE Online Shop.
Contact:
Carol Meyers
BFE Education Manager
education(at)bfe(dot)org