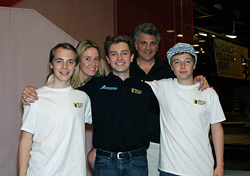 Mount Kisco, NY (PRWEB) May 30, 2014
Three Greenwich brothers teamed up to spread the word on the dangers of distracted driving. The teen trio organized the Second Annual Project Yellow Light Race at Grand Prix New York and raised $3,200 in funds to benefit the scholarship program.
Greenwich High School senior Ben Albano, the 2013 MAZDASPEED Challenge Summer Series Champion and 2012 Rookie Of The Year, along with his brothers Addison, a junior at Brunswick School and Austen, a freshman at King, organized the race and signed up participants from high schools throughout Fairfield, CT and Westchester, NY.
The 90-minute endurance race took place at GPNY in Mt. Kisco on April 25, drawing over 85 participants from local high schools.
"With the generous help of our corporate sponsors, we raised awareness for the dangers of distracted driving and raised money for Project Yellow Light, helping to eliminate one of the greatest threats to our age group," Ben Albano said.
This year's race coincided with National Distracted Driving Awareness Month.
"We were very happy to time the event this year with National Distracted Driving Awareness Month and bring together schools from Connecticut and Westchester to support this cause," Addison Albano said.
The April event raised $1,000 more than last year's race, garnering a total of $3,200 for Project Yellow Light.
The students were divided into two groups, based on karting experience. The two first-place winning teams are:
GTLM Class: Owen Gerber, Noah Richardson, Clayton Jurkowitz, Colin Rosato, George Yates
Prototype Class: Page Jockimo, Mitchell Wilson, Xavier Delgado, Marshall Resnick, Graham Resnick
Race sponsors included: Grand Prix New York, Teddy's Transportation, Fresh Green Light Driving School, Allstate - The Wright Insurance Agency, LLC, Petro Heating and Air Conditioning, The Gerber Group, Skip Barber Racing School, Aux Délices Foods, as well as private donors.
About Project Yellow Light
Project Yellow Light is a scholarship competition designed to bring about change, in partnership with the Ad Council, Mazda, National Highway Traffic Safety Administration and National Organizations for Youth Safety. Applicants have a clear mission: encourage peers to develop and embrace safe driving habits. For both the high school and college contests, the first-place winners receive a scholarship in the amount of $5,000, second-place finishers receive $2,000, and third-place finishers receive $1,000. Project Yellow Light was founded in memory of Hunter Garner - a 16-year-old with a dry wit, wicked sense of humor, interesting creative mind, who loved music, running, and had lots of friends from all walks of life. Hunter died in a car crash on June 10, 2007 at the age of 16. For more information about Project Yellow Light, visit http://www.projectyellowlight.com.
About Grand Prix New York Racing
Grand Prix New York Racing (GPNY) is the only large indoor racing, social entertainment, and corporate event venue in the New York City-metro area. Centrally located in the village of Mount Kisco New York, GPNY is a unique 118,000-square-foot facility that offers a quarter-mile-long, state-of-the-art racetrack for all ages; Spins Bowl (a 19-lane bowling center and special events services); Fuel restaurant and bar, with award-winning catering; an arcade, carnival room, banquet facility, conference rooms, and more. GPNY is actively involved in community outreach and fundraising efforts. Since its inception in 2008, GPNY has raised hundreds of thousands of dollars for local charities by hosting high-profile fundraising events. For more information about GPNY, visit their website at http://www.gpny.com.