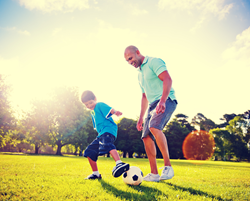 The more activity a mother did, the more active her child. Although it is not possible to tell whether active children were making their mothers run around after them, it is likely that activity in one of the pair influences activity in the other
(PRWEB UK) 30 May 2014
Key habits for good health must begin before birth, which is why prenatal nutrition and lifestyle habits are addressed by most medical facilities. Important lifestyle changes include finding and maintaining your ideal weight through a balanced diet that ensures you have the proper nutrients and through regular physical activity to keep you fit and prevent most chronic diseases. These habits are then passed on to the children through the household environment which in turn minimises the risk of common health issues or unhealthy habits developing later on in life.
Repeated research has proved that physical activity is essential for healthy school-aged children, however, large-scale research into the association between the activity of the parents and preschool-aged children is almost non-existent along with specific demographic and temporal factors that exclusively influences activity levels in mothers of young children. Researchers from Cambridge and Southampton universities studied the influence of mothers on the activity levels of their children and concluded that parents have an important role to play in developing healthy exercise habits early on in life.
In the UK Southampton Women's Survey, physical activity levels of 554 4-year-olds and their mothers were measured concurrently by using accelerometry combined with a heart-rate monitor on their chests, for up to seven days. Participants wore it continuously, including while sleeping and doing water-based activities. For every minute of moderate-to-vigorous activity a mother engaged in, her child was more likely to engage in 10% more of the same level of activity. For every minute the mother was sedentary, children were 0.18 minutes more sedentary, so one hour of sedentary time in mums would result in 10.8 minutes in children. http://bit.ly/1tCQceb
Factors which influenced a mother's activity levels included whether she worked or not and whether the child had brothers or sisters. Co-study author Dr Esther van Sluijs, from the Centre for Diet and Activity Research at the University of Cambridge, said the link between a mother and child's activity levels was stronger for mothers who left school at 16, compared to those who left at 18. Although these small differences may seem trivial, over the course of a month or a year they could be significant.
Kathryn Hesketh, now a research associate at the Institute of Child Health at University College London, co-led the study that was published in the March issue of Paediatrics http://bit.ly/1pBk6fw and said the data from mothers and children showed a direct, positive association between physical activity in children and their mothers. "The more activity a mother did, the more active her child. Although it is not possible to tell from this study whether active children were making their mothers run around after them, it is likely that activity in one of the pair influences activity in the other."
Dr Ann Hoskins, director of children, young people and families at Public Health England, said it was committed to increasing physical activity in families and children to improve overall health. "Active play is an important way to develop coordination and motor function skills in the pre-school early years and there are lots of activities like parent and toddler swims, buggy fit and baby gym which provide opportunities for mums to socialise, be active and support their child's development." http://bit.ly/1dsMcp2