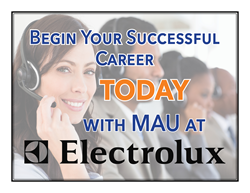 Augusta, GA (PRWEB) May 30, 2014
Are you fluent in Spanish? MAU is looking for bilingual individuals to hire as Customer Engagement Specialists at Electrolux in Augusta, GA. This position is responsible for establishing and maintaining beneficial relationships with consumers on behalf of Electrolux by taking personal and complete responsibility for each consumer contact and ensuring their needs are met.
Applying is easy! Please visit http://www.mau.com/electrolux to apply in three easy steps!
Position Qualifications:
High School Diploma or equivalent required, college degree strongly preferred
Minimum 1 year experience in sales or consumer service
MAU Workforce Solutions staffs excellent, effective people for their partners, allowing them to focus on their core competencies. Headquartered in Augusta, GA since 1973, MAU is a family-owned, minority company making lives better for applicants, clients, and employees through innovative workforce solutions. Today, with Branch and vendor on premise locations across the South and recruiting partners worldwide, MAU has global capabilities to help with all staffing, recruiting, and outsourcing needs.