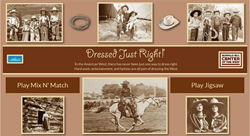 We're embracing the challenge of what we do here at the Center to a vast virtual audience.
Cody, Wyoming (PRWEB) May 31, 2014
From working cowboys and ranch women, to dudes and western movie heroes—even Wild West showman William F. "Buffalo Bill" Cody—the clothes of a westerner could indicate profession, personality, or simply an aspiration to dress the part. The Center's new online interactive, both fun and educational, invites users to match outfits to westerners such as buckaroos, cowboys, ranch women, and Buffalo Bill himself, or to toy with the typical by mixing the clothing of the different characters. Players reap rewards and tokens such as virtual sets of clothes, and can track their puzzle completion times and difficulty levels.
While the activity is geared toward children, the interactive draws in adults as well, and teaches about the history of clothing and the accoutrements of western gear. "Dressed Just Right" joins "History Canvas," an online art interactive launched by the Center of the West in early May. Participants can access both activities from a new page of the Center's website where future interactive media projects are introduced as they are developed.
"We recognize the vast potential audience we can reach through online projects like these," says George Miller, Outreach Educator and Web Content Creator for the Center's Interpretive Education Department. "Visitors to the Center love the programs and activities we offer on-site," he continues, "and we're embracing the challenge of adapting what we do here to a virtual audience."
This newest interactive had its beginnings in a 2011 special exhibition at the Center of the West titled Dressed Just Right: An Evolution of Western Style from Function to Flamboyance, curated by Dr. Laurel Wilson, a textiles and apparel professor and Center of the West Resident Fellow at the time, with assistance from former Center staff members Lynn Houze and Jill Osiecki Gleich. Taking a creative look at the history of western dress and the various cultural influences that affected its development through time, the exhibition included a children's flip book that was the genesis for the new interactive.
As with "History Canvas," creating "Dressed Just Right" was a collaborative project spearheaded by Miller and programmed by Developer Michael Romanovsky, with assistance from staff in the Center's Education and Information Technology departments. The project was made possible through a generous donation by J Bar 9 Ranch, Cody, Wyoming.
Visit "Dressed Just Right" to play at puzzle.centerofthewest.org. The print book on which it is based, available in the Center's Store and online at store.centerofthewest.org, was written by School Services Coordinator Megan Smith, and designed and illustrated by Kimber Swenson, with Gleich as managing editor. For more information on current and future interactive media projects, contact Miller at georgem(at)centerofthewest(dot)org or 307-578-4121.
Since 1917, the award-winning Buffalo Bill Center of the West in Cody, Wyoming, has devoted itself to sharing the story of the authentic American West. The Center, an affiliate of the Smithsonian Institution, is operating its summer schedule, open daily 8 a.m. – 6 p.m. For additional information, visit centerofthewest.org or the Center's pages on Facebook and Google+.
Image: The Buffalo Bill Center of the West's most recent addition to the interactive media offerings on its website, "Dressed Just Right." Find it and "History Canvas" at centerofthewest.org/learn/interactives.