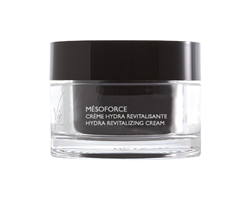 ...delivers the same hydrating and plumping results sans injections.
Saint-Malo, France (PRWEB) May 30, 2014
Vie Collection draws directly upon esthetic medicine with the launch of MÉSOFORCE Hydra Revitalizing Cream. This anti-aging, velvety cream is inspired by mesotherapy, which consists of a series of medical "micro injections" of hyaluronic acid combined with vitamins and antioxidants. Formulated with a duo of hyaluronic acid, a cocktail of vitamins and ceramides, MÉSOFORCE Hydra Revitalizing Cream delivers the same hydrating and plumping results sans injections. A preventative product, the skin is better conditioned, dehydrated areas are plumped, and the skin is strengthened and better equipped against the factors of aging. Clinical test results from an independent laboratory confirm that skin is 100% hydrated after just one application.*
*Complete test results available upon request.
Vie Collection MÉSOFORCE Hydra Revitalizing Cream --- 50 ml, suggested retail price $153.00
Directions for Use: Apply morning and/or evening to face and neck. Use a specific eye care product.
Key Ingredients:

Hyaluronic Acid of high molecular weight - innovative capsules gradually break to release hyaluronic acid in the heart of the skin with an action over time. Hydrates on contact with water in the dermis to rehydrate and densify hollow areas.
Hyaluronic Acid of low molecular weight - small molecules of hyaluronic acid penetrate into skin layers and fit into even the tiniest furrows and dehydration lines. Regulates internal hydration, increases cell cohesion and improves skin tone.
Provitamin B5 - true water trapper, improves hydration of the skin and restores the barrier function, allowing skin to regain a good level of hydration.
Vitamin C derivative - smooths facial features, softens the skin and brightens the complexion, enhancing its radiance and overall rejuvenating effect.
Vitamin E + Coenzyme Q10 - protects the skin and prevents skin aging by protecting cell membranes from free radicals, restoring the lipidic barrier and energizing cells.
Lipid-Replenishing Complex - Vie Collection research has selected an innovative lipid complex consisting of a unique blend of ceramides that fill gaps in the skin structure. Vie Collection has also selected a natural lipid-replenishing complex made of olive, jojoba and cereal germ vegetable oils composed of shea butter. They are rich in essential fatty acids and Vitamin E and F to strengthen the skin's hydrolipidic film and thus moisturize, restructure and protect the skin structure.
Vie Collection at a Glance:
As a cosmeceutical expert in the spa industry, Vie Collection is a high-performance, high-end skin care line focused on bridging the gap between traditional cosmetics and esthetic medicine. We are one of few spa brands with our own laboratory which allows us to always be on the cutting-edge of scientific progress in cosmetics. We offer in-spa solutions for a spa-savvy clientele that seek medical results but prefer the use of topical products. Vie Collection has targeted, non-invasive and clinically proven alternatives and complements to the top five cosmetic medicine procedures available today.
With the partnership of a prestigious French esthetic doctor, Vie Collection brings expertise, authenticity and real results in the form of expert formulations and treatments, from the finest ingredients.
Available in spas in the United States May 2014 and at http://www.lespausa.com.