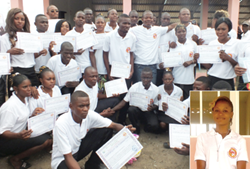 Mbankana, Democratic Republic of Congo (PRWEB) May 30, 2014
The first class of new teachers graduated from the Planet Aid-supported teacher training college in Mbankana, Democratic Republic of Congo. Thirty students received their certificate for completing the two-year program and will begin teaching in rural primary schools in the fall.
The Mbankana teacher-training college, established by Humana People to People Congo, opened its doors in 2012. It is the first of 54 new colleges that may open (with additional support) across the nation as part of an agreement with the Democratic Republic of Congo's Ministry of Education.
The DRC faces an acute shortage of teachers, with over 158,000 more teachers needed to reach the United Nations' Millennium Development Goal of universal primary education by 2015.
Among the new graduates of the Mbankana college is 21-year-old Noelly, a spirited proponent for gender fairness and education. Read more about her and other beneficiaries of teacher training colleges on the Planet Aid website.
Planet Aid is a nonprofit organization whose mission is to inform, mobilize, and inspire individuals and communities to work together to bring about worldwide environmental and social progress. It is incorporated under the laws of Massachusetts and recognized as a tax-exempt charity under IRS code 501(c)(3).