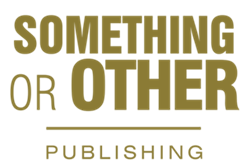 Our focus is on helping writers to achieve success with their production, platform, and pitch.
Madison, WI (PRWEB) May 31, 2014
With interest growing in Something or Other Publishing's unique author-driven platform, the Wisconsin-based publisher announced its latest initiative to help aspiring authors gain exposure.
SOOP's model works to bridge the gap between self-publishing and traditional publishing by giving writers the tools they need to succeed not only with their manuscripts, but with finding, building, and maintaining a paying audience. To initiate the publishing process with SOOP, authors submit their book ideas to SOOPLLC.com and leverage SOOP's integrated content, social media, and direct mail platform to generate interest for their book. As they reach various voting milestones, they earn educational rewards, tools, and other benefits on their way to qualifying for a publishing contract.
Authors who submit their book ideas to SOOP now have the ability to get their writing in front of more eyes by utilizing the "Wednesdays Are for Writers" initiative. The program provides a weekly opportunity for yet-to-be-published authors to guest post on the SOOP blog as part of its "Wednesdays are for Writers" feature.
SOOP has also announced that the authors that make its monthly Top 10 list – comprised of the month's top vote-getters – will have their book ideas and profiles prominently featured on SOOP's home page.
"Our focus is on helping writers to achieve success with their production, platform, and pitch," said Wade Fransson, SOOP's founder. "With these programs and others, we're working to transform our website into a hub that addresses all three of those areas."
About Something or Other Publishing:
Something or Other Publishing, LLC is a new concept in publishing that seeks to connect authors and readers like never before. Its democratized selection process and subsequent focus on author education, empowerment, and encouragement is designed to provide a platform for a new generation of talented writers. The company is based in Madison, Wisconsin.
###