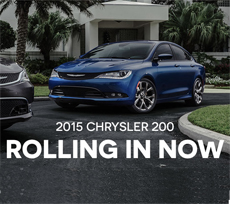 The 2015 Chrysler 200 is engineered to distinctly provide a superior drive.
Stillwater, OK (PRWEB) May 31, 2014
The 2015 Chrysler 200 is launching with simple, yet state-of-the-art technology which will be available for Stillwater Chrysler car buyers at Barry Sanders Supercenter. The astounding fuel economy and a sophisticated design which works equally to create an exciting driving experience. Every feature makes driving or riding in the 2015 Chrysler 200 beneficial and fun simultaneously.
"With fuel economy ratings up to 36 miles per gallon and features typically found on more expensive luxury vehicles, the all-new 2015 Chrysler 200 delivers the premium features customers want at a price they can afford," says CEO of Chrysler Group LLC Al Gardner.
While upping the standards for all models, the 2015 Chrysler 200 is showing Oklahoma consumers what they should expect from a midsize sedan. Complete with a nine-speed transmission, a choice of powertrains, and an available all-wheel drive component, this vehicle will surely make its mark on consumers across America.
The 2015 Chrysler 200 is engineered to distinctly provide a superior drive, which makes commutes less of a bore while exercising the comfort and handling of the vehicle. Barry Sanders Supercenter customers will surely enjoy their daily commute through any road conditions whether its rainy, icy, or a beautiful day.
Other features on the 2015 Chrysler 200 that Oklahoma City residents may enjoy are a 295 horsepower Pentastar V-6 engine, drivers will receive an estimated average of 19 mpg city, and 32 mpg highway fuel economy. However, sedans that have the Pentastar V-6 engine combined with the all-wheel drive component are rated at 18 mpg city and 29 mpg highway.
All these amenities make the 2015 Chrysler 200 an exceedingly special midsize sedan. Whatever reason you have for taking a look at the incredible engineering of the 2015 Chrysler 200, we are happy to help at Barry Sanders Supercenter. Stop by our local, Stillwater Chrysler dealership or contact us at 405-418-3966.