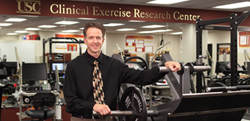 Our study participants enjoy the taste of EnergyFirst, which is very important for maintaining study compliance with our clinical trials.
Manhattan Beach, CA (PRWEB) June 03, 2014
EnergyFirst, a world leader in nutraceuticals and nutrition supplementation, is part of a clinical trial involving the effects of whey protein powder and resistance training on patients that are in the process of being treated for cancer.
The study, "Exercise and Whey Protein Supplementation as Adjunctive Therapy for Patients with Prostate Cancer Receiving Androgen Deprivation Therapy," focuses on males undergoing androgen deprivation therapy, or ADT, for prostate cancer. This form of therapy negates the natural production of testosterone. The side effects of ADT are the loss of muscle mass, strength and suppression of the immune system.
By using EnergyFirst's ProEnergy whey protein isolate powder — which is derived from the milk of grass-fed cows that are not treated with rBGH, antibiotics or hormones — and a regimen of weight training, the researchers hope to mitigate strength and muscle loss during the treatment of prostate cancer.
"We chose EnergyFirst protein powder because it is all natural, has no fat or cholesterol, and is a high quality whey protein isolate that may help to strengthen the immune system and provide essential proteins to help build muscle mass with resistance training. Additionally, our study participants enjoy the taste of EnergyFirst, which is very important for maintaining study compliance with our clinical trials," E. Todd Schroeder, PhD, FACSM, the director of the University of Southern California's Clinical Exercise Research Center and associate professor in the Division of Biokinesiology & Physical Therapy said.
Though whey protein is a popular supplement, very few brands are derived from the natural sources of EnergyFirst's ProEnergy. Artificial sweeteners are used by other supplement manufacturers, but ProEnergy uses stevia, an all-natural sweetener.
"Whey protein has been a favorite supplement of athletes for many years, but everyone can benefit from whey protein isolate such as our ProEnergy," Gerry Morton, president and CEO of EnergyFirst said. "We're very pleased to have been chosen for this study because of our all-natural approach to manufacturing our ProEnergy whey protein isolate."
—
About EnergyFirst:
EnergyFirst, a leading company in the all-natural protein and supplement industry, was founded in 1997. We, at EnergyFirst, believe that everyone can benefit from drinking a protein shake whether the goal is optimal nutrition in a meal replacement, an easy and healthy breakfast alternative, a weight loss aid, or a protein supplement for athletes. We also believe that your protein shake should be 100% natural and delicious. EnergyFirst offers healthful and high quality products, including ProEnergy, a whey protein isolate derived from the milk of grass-fed, antibiotic-, growth hormone- and rBGH-free cows; Greenergy Superfood for antioxidant and immune system support from certified organic ingredients; Prefuel all-natural sugar free pre-workout supplement, and Permalean Protein Bars.
###
Keywords: EnergyFirst, ProEnergy, whey protein isolate, prostate cancer, University of Southern California, E. Todd Schroeder, Gerry Morton, Clinical Exercise Research Center, Division of Biokinesiology & Physical Therapy, Androgen Deprivation Therapy, testosterone, whey protein powder