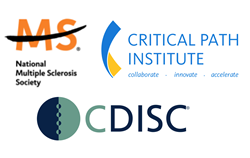 This new MS standard signals a commitment to ensure that data does not remain in silos. By standardizing data we expect that research will move us faster toward our goal of a world free of MS.
Austin, TX; New York, NY and Tucson, AZ (PRWEB) June 04, 2014
A new data standard for multiple sclerosis (MS) has been released by the Clinical Data Interchange Standards Consortium (CDISC), the leading global standards organization for clinical research. When used together with the foundational CDISC clinical data standard, this therapeutic area standard allows clinical research data from multiple MS trials to be grouped for reporting, analysis, and regulatory submissions.
The standard is the result of work from organizations across the globe. Led by the Multiple Sclerosis Outcome Assessments Consortium (MSOAC), a Critical Path Institute (C-Path) consortium, the effort drew on the 'common data elements' developed for MS through the National Institute of Neurological Disorders and Stroke (NINDS). MSOAC members with clinical expertise in MS connected with CDISC teams in the standardization process designed by the Coalition for Accelerating Standards and Therapies (CFAST) initiative. In the CFAST standardization process, standards developers work closely with clinical experts on definitions and scoping from the beginning. Dr. Rebecca Kush, CDISC President and CEO stated that this process is "key to fast-tracking therapeutic area data standards."
"Sharing of data is central to each of C-Path's seven consortia. We know that aggregating data for the purpose of identifying new biomarkers and developing outcome assessment tools is essential to FDA's Critical Path Initiative and regulatory science objectives. This work requires multi-sector collaborations and we are proud to have helped create new MS standards," stated Dr. Martha Brumfield, President and CEO of C-Path. MSOAC is C-Path's newest consortium, funded by the National Multiple Sclerosis Society with the mission of analyzing data from MS studies to qualify a new performance measure of disability as a primary endpoint for future MS trials. The coalition is currently remapping legacy clinical data to the new MS standard in preparation for pooling data from thousands of individual patients (Read more: http://c-path.org/programs/msoac/).
Like other open CDISC data standards, the new MS standard is freely available (http://www.cdisc.org/therapeutic#MS). "This new tool is more than another resource for the MS research community," indicated Dr. Timothy Coetzee, Chief Advocacy, Services and Research Officer at the National MS Society. "This new MS standard signals a commitment to ensure that data does not remain in silos. By standardizing data we expect that research will move us faster toward our goal of a world free of MS."
In addition to its value for clinical researchers worldwide, the MS data standard provides a streamlined review of drug applications within the U.S. Food and Drug Administration (FDA) and European Medicines Agency (EMA). "By 2017, we expect that use of data standards will be required for certain submissions, and that these requirements will continue to expand as standards are developed to address future needs," explained Dr. Douglas Throckmorton, Deputy Center Director for Regulatory Programs, Center for Drug Evaluation and Research, U.S. Food and Drug Administration. The deadline is designed to focus industry attention on instituting standards expeditiously and propel the academic community to accept them as well. Some funders are offering incentives together with requirements.
"NINDS encourages investigators to plan for both standardizing and sharing data as they design their studies so that we can learn the most from each study and derive the maximum benefit from our investment of taxpayer dollars," stated Dr. Story Landis, Director, NINDS.
Adoption of the MS data standard will leverage the considerable investment in MS research by NINDS, the National MS Society, and industry, and accelerate the development of therapies for this debilitating neurologic disease.
About Multiple Sclerosis
Multiple sclerosis, an unpredictable, often disabling disease of the central nervous system, interrupts the flow of information within the brain, and between the brain and body. Symptoms range from numbness and tingling to blindness and paralysis. The progress, severity and specific symptoms of MS in any one person cannot yet be predicted, but advances in research and treatment are moving us closer to a world free of MS. Most people with MS are diagnosed between the ages of 20 and 50, with at least two to three times more women than men being diagnosed with the disease. According to the National MS Society, MS affects more than 2.3 million worldwide.
About the National Multiple Sclerosis Society
http://www.nationalMSsociety.org
The Society mobilizes people and resources to drive research for a cure and to address the challenges of everyone affected by MS. To fulfill this mission, the Society funds cutting-edge research, drives change through advocacy, facilitates professional education, collaborates with MS organizations around the world, and provides programs and services designed to help people with MS and their families move their lives forward. To move us closer to creating a world free of MS, last year alone, the Society invested over $48 million to support more than 380 new and ongoing research projects around the world while providing program services to over one million people.
About CRITICAL PATH INSTITUTE (C-PATH)
http://www.c-path.org
An independent, non-profit organization established in 2005 with public and private philanthropic support from the Arizona community, Science Foundation Arizona, and the U.S. Food and Drug Administration (FDA), C-Path's mission is to catalyze the development of new approaches that advance medical innovation and regulatory science, accelerating the path to a healthier world. An international leader in forming collaborations, C-Path has established seven global, public-private partnerships that currently include over 1,000 scientists from government regulatory agencies, academia, patient advocacy organizations, and dozens of major pharmaceutical companies.
About CDISC
http://www.cdisc.org
CDISC is a 501(c)(3) global non-profit charitable organization, with over 300 supporting member organizations from across the clinical research and healthcare arenas. Through the efforts of volunteers around the globe, CDISC catalyzes productive collaboration to develop freely available, industry-wide clinical research data standards. The CDISC Vision is to inform patient care and safety through higher quality medical research.
About CFAST
http://www.cdisc.org/therapeutic
CFAST, a joint initiative of CDISC and the Critical Path Institute (C-Path), was launched to accelerate clinical research and medical product development by facilitating the establishment and maintenance of data standards, tools and methods for conducting research in therapeutic areas important to public health. CFAST collaborators include the U.S. Food and Drug Administration (FDA), TransCelerate BioPharma, Inc. (TCB) and the National Cancer Institute Enterprise Vocabulary Services (NCI-EVS), with participation from the Innovative Medicines Initiative (IMI), the Association of Clinical Research Organizations (ACRO), the National Institutes of Health (NIH), and many other organizations.